What is the Future of Printed, Flexible Electronics?
Printed flexible electronics are used for skin patches, thin-film flexible photovoltaics, and automotive interior consoles, among many other uses. This approach to electronics combines additive manufacturing with flexible substrates, allowing rapid prototyping, increased sustainability, and scope for form factor differentiation and stretchability.
IDTechEx released their report "Flexible & Printed Electronics 2023-2033: Forecasts, Technologies, Markets," which has a comprehensive overview of this tech. The report outlines innovations, opportunities, and trends across five printed/flexible electronics sectors: automotive, consumer goods, energy, healthcare/wellness, and infrastructure/buildings/industrial. They analyze and forecast 50 specific applications and detail 40 company profiles.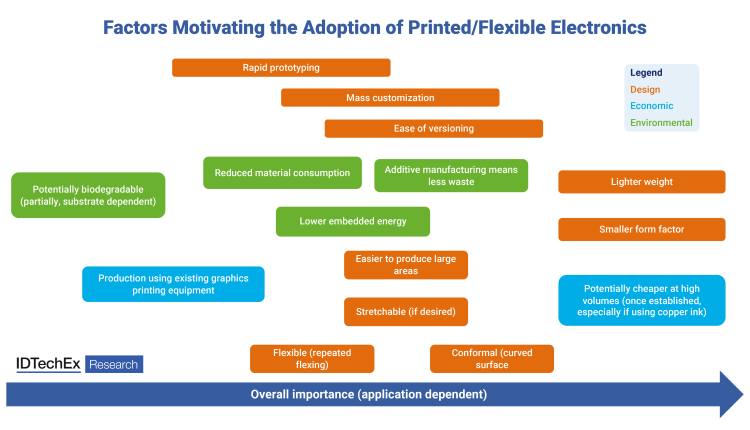 Additionally, the report looks at developments across underlying technologies: six manufacturing modalities, five material types, and four component types, showing tech development directions and commercialization. They assess tech and commercial readiness and forecast manufacturing methods and conductive inks.
To find out more, including downloadable sample pages, please visit www.IDTechEx.com/PE.
They are also hosting a webinar – "Printed and Flexible Electronics: State of the Industry," – on Wednesday, July 12th. Dr. Matthew Dyson, Principal Technology Analyst at IDTechEx and author of this report will discuss the following topics:
An introduction to printed and flexible electronics, including motivating factors

Assessment of product-market fit across the application space, including discussion of use cases seeing most commercial traction

A selection of recent innovations spanning materials, components, and manufacturing methods

A roadmap for how the industry will develop, spanning both technologies and applications
 There will be a Q&A session at the end of this webinar, where Dr. Dyson will answer questions. Please send your questions to [email protected] by Friday, July 7th.
Click here to register for one of three sessions. If you cannot attend, you can register to receive the on-demand recording and slides as soon as they are available.