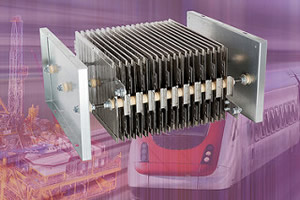 Grid Resistors Combine High Power Ratings to 24 kW
Vishay Intertechnology introduced a new series of high-power, high-current grid resistors. Offering designers a convenient drop-in replacement for competing solutions, Vishay Milwaukee GRE2 devices, a product line of Vishay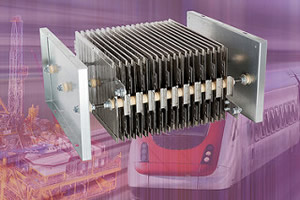 Dale Resistors, combine high power ratings to 24 kW and high operating temperatures to +400 °C with a robust design.
With high power capability from 4 kW to 24 kW at +40 °C, the grid resistors released today are optimized for capacitor pre-charge and discharge, dynamic braking, load testing, heater, and neutral grounding applications in locomotives/transit systems, harmonic filters, renewable energy systems, and industrial systems. The devices feature a wide resistance range from 0.25 Ω to 50 Ω, with tolerance of ± 10 %, and low inductance from 10 µH to 40 µH.
Featuring a stainless steel plate element, ceramic insulators, and multiple taps, the GRE2 series provides high reliability with a welded construction and double insulation for maximum cooling efficiency. Offered in modular or custom designs, the RoHS-compliant industrial power resistors can be mounted in IP20 (indoor rated) and IP23 (outdoor rated) enclosures to offer the optimized level of protection for the application.
Samples and production quantities of the GRE2 series grid resistors are available now, with lead times of four weeks.