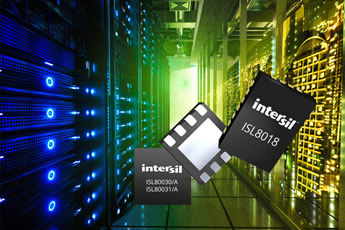 High Efficiency, Highly Integrated 8A and 3A Synchronous Buck Regulators
Intersil has announced five highly integrated synchronous buck regulators that step-down 5V rails to PoL inputs as low as 0.6V for FPGAs, DSPs and MPUs. The feature-rich ISL8018 delivers up to 8A of continuous output current from a 2.7 to 5.5V input supply, while offering up to 97% efficiency and higher integration than competitive devices.
The four devices in the 2x2mm ISL8003x family deliver up to 3A of continuous output current from a 2.7 to 5.5V input supply and offer up to 95% peak efficiency for delivering general POL conversions in telecomms, cloud computing, industrial, instrumentation and medical equipment.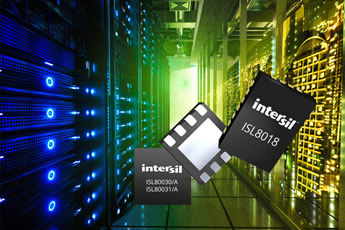 The ISL8018 provides an innovative SYNCIN and SYNCOUT feature that connects and synchronises multiple regulators at the same switching frequency in a master/slave configuration using a phase shifting time delay. This prevents ON time overlapping and reduces RMS current, ripple and input capacitance requirements to improve EMI and efficiency. With the ISL8018's VSET feature, the voltage output margining can be set at ±10% to compensate for output voltage IR drop. The ISET feature provides programmable output current limits to support 8, 5 and 3A applications. This allows customers to leverage one design with smaller inductors for reduced costs and board area. In addition, the ISL8018's programmable switching frequency from 500kHz to 4MHz enables the use of smaller passive components for faster transient response and further board space savings.
The ISL80030, ISL80030A, ISL80031, and ISL80031A are pin-compatible and integrate very low RDS(ON) high-side PMOS and low-side NMOS MOSFETs, which reduces external component count and power losses. With lower die temperatures, these buck regulators allow the system to operate without cooling fans or heatsinks and still deliver a continuous 3A to the load, significantly increasing reliability. They also offer internal compensation, which eliminates additional external components to reduce design complexity. The complete converter occupies less than 64mm2 of board space. The ISL80031 and ISL80031A offer a light load mode to improve efficiency over all load currents when the system switches to a low power state.
Mark Downing, Senior Vice President, Infrastructure and Industrial Power Products, Intersil, commented: "As the number of voltage rails increases and design complexity continues to grow, power supply designers need switching regulators that deliver high efficiency, fast transient response and are simple to use. The new 8 and 3A synchronous buck regulators give our customers the right set of features and flexibility in a compact solution size as small as 2x2mm required for PoL applications."
These synchronous buck regulators can be combined with the ISL85033 dual 3A output synchronous buck regulator in PoL applications and the ISL85003 4.5 to 18V, 3A synchronous buck regulator for a two-stage solution converting a 12V rail to a 5V rail. The ISL85403 also can be used for a two-stage solution to step-down a 24V rail to a 5V rail.
The ISL8018 8A synchronous buck regulator is available now in a 3x4mm, 20-lead QFN package and is priced at $1.60 in 1,000 unit quantities. The ISL8018DEMO1Z demonstration board can be purchased for $20 and the full-featured ISL8018EVAL3Z evaluation board is $115.
The ISL80030, ISL80030A, ISL80031 and ISL80031A 3A synchronous buck regulators are available now in 2x2mm, 8-pin DFN packages. 1,000 unit pricing for the ISL80030 and ISL80030A is $0.59 each and for the ISL80031 and ISL80031A is $0.60 each. The ISL80030DEMO1Z and ISL80031DEMO1Z demonstration boards can be purchased for $18.