How Sticky are Cosmic Dust Aggregates?
In the mesmerizing dance of cosmic dust, a groundbreaking revelation has emerged, shedding light on the enigmatic process of planet formation. Microparticle dust aggregates, those tiny building blocks of celestial bodies, have long been thought to merge and culminate into new planets. However, a recent study has unveiled a fascinating twist in this cosmic tango.
Astrophysicists embarked on numerical simulations of dust aggregate collisions, a pivotal step in understanding the evolution of planets. The simulations, conducted with great precision using soft-sphere discrete element methods, showcased a startling trend: larger aggregates are less likely to stick together after a collision.
Unraveling the Enigma of Planetesimals
These results challenge our understanding of the planet-formation process, leading to intriguing questions. "The formation of planetesimals, the initial stage of planet formation, has been one of the biggest conundrums in the realm of planetary theory," stated Hidekazu Tanaka, a professor at the Astronomical Institute in the Graduate School of Science at Tohoku University in Sendai, Japan, and one of the authors of the study.
The simulations hint that the formation of kilometer-sized bodies, known as planetesimals, might be hindered due to collisional bouncing between large dust aggregates. These planetesimals play a vital role in planets' subsequent merging and growth through mutual gravity.
The research team's modeling efforts have been a significant leap toward comprehending the dynamics of dust aggregates during collisions. Nevertheless, the mystery lingers, and many questions remain unanswered. Why does the size of the aggregates influence their sticking probability after a crash? Could the size of the individual particles forming an aggregate also be a determining factor in the sticking phenomenon?
Pioneering the Path to Planetary Revelation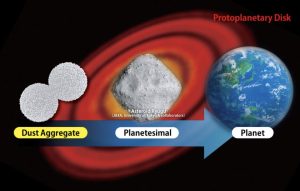 Micrometer-scale dust particles from protoplanetary disks, or sites around stars with particles and hydrogen and/or other gasses, aggregate to form planetesimals, or kilometer-scale building blocks of planets. Planetesimals, in turn, merge due to mutual gravity. TOHOKU UNIVERSITY
The journey to unravel the secrets of cosmic dust aggregates has only just begun. Future studies will delve deeper into the structure of aggregates over time and explore the intricacies of contact sites after collisions to demystify how these larger aggregates eventually fuse.
The research team acknowledges that their current simulations are far from exhaustive, promising more refined experiments with realistic procedures and accelerations to enhance their understanding further. Their sights are set on exploring collisions between even larger dust clumps using supercomputers, a pursuit that could potentially revolutionize our present notions of planet development.
Conclusion
As the cosmic ballet of dust aggregates continues, one thing is sure: the path to comprehending planet formation holds many surprises, and the scientific community eagerly awaits the unfolding of this celestial drama. The study's findings, published in the Astrophysical Journal Letters, have ignited a curiosity that will drive further exploration into the awe-inspiring cosmic dance of dust.