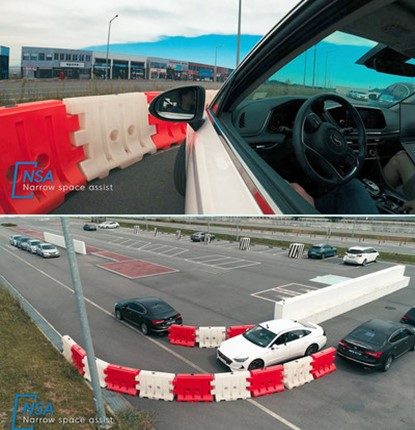 Hyundai Mobis rolls automated narrow street driving system
Another in the back-to-back firsts announced by Hyundai Mobis. This time, it's an integrated system that enables narrow space assistance, reverse assistance and remote smart parking assistance. The system operates with a mere 16" on both sides on a narrow street.
Hyundai Mobis announced the world's first urban Advanced Driver Assistance System (ADAS) called the Mobis Parking System (MPS) that is able to drive itself through a narrow street by avoiding obstructions, drive through the revolving gate of an underground parking lot, or drive backwards at a dead end where two cars are facing each other—all at the press of a button.
Hyundai Mobis used its own software logic and mass-produced ultrasonic sensors. The company agrees that while RADAR and LiDAR sensors are useful for recognizing objects located far away or in high-speed driving, ultrasonic sensors are more suitable for narrow streets or underground parking lots. The sensors recognize objects over a short distance, while the software logic and the control system perform self-driving.
Original Release: PR Newswire