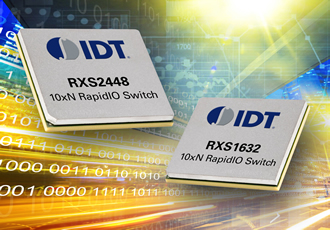 IDT Launches Next-Generation RapidIO Switches
Integrated Device Technology introduced a new generation of RapidIO switches that deliver the ultra-low latency, high bandwidth and superior energy efficiency needed for the development of 4G LTE Advanced (LTE-A) and 5G wireless infrastructure systems. Exceeding the latest RapidIO 10xN specification, IDT's RXS switch family delivers greater than twice the performance of IDT's previous generation of switches used in virtually every 4G LTE phone call and download made today. In addition to 4G LTE-A and 5G, the new switches are ideal for applications with intensive bandwidth and low latency requirements such as mobile edge computing, high-performance computing, and data analytics.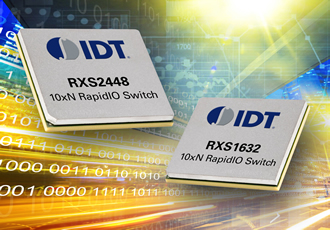 RapidIO switches are used to connect the computing components that comprise complex processing-intensive electronics systems—components such as SoCs, DSPs, FPGAs, and custom ASICs. IDT's RXS family of switches exceeds the demanding bandwidth requirements of the RapidIO 10xN standard while maintaining the ultra-low latency for which RapidIO is known. These capabilities help ensure that data can move between components with extremely low latency and high energy efficiency.
The new RXS2448 and RXS1632 switches offer ultra-low port-to-port latency approaching100ns and a flexible, non-blocking fabric with switching performance of up to 600 Gbps to deliver the most optimized 5G switching solution. The new switches are backward-compatible with existing RapidIO ecosystems, protecting previous hardware and software investments while accelerating time to market.
"The single millisecond round trip latency requirements of 5G infrastructure will place considerable demands on all computing elements in the chain," said Dr. Gerhard Fettweis, chair of 5G Lab Germany and a Vodafone board member. "IDT has taken a leadership role to address the demanding switch requirements of these systems with the introduction of their 10xN switches, which can serve as key building blocks for 5G network rollouts as data center functionality merges with the telecommunications network."
The 10xN RapidIO switches are ideal for a wide variety of markets where latency in moving data between components is a bottleneck to achieving the potential performance of a complex electronic system. These markets include mobile infrastructure (base stations, C-RAN, mobile-edge compute); data center (data analytics, high-performance computing); aerospace, industrial control and defense.
The new switches can have an immediate impact on existing systems by increasing aggregate backplane bandwidth with a simple upgrade of a system switching card and will offer designers and architects a compelling data movement solution for future systems, such as 5G.
The RXS family is composed of the RXS2448, with 24 ports and 48 lanes, and the RXS1632, with 16 ports and 32 lanes. They feature:
• 10xN 50Gbps ports for heterogeneous computing. Supporting multi-standard (4G and 5G) BTS designs, the RXS switches have the flexibility to operate at the 10xN standard of 10 Gbaud, but can also increase to a 25 percent faster rate of 12.5 Gbaud per lane, expected in a future release of the RapidIO standard.
• Ultra-low latency. The 100ns port-to-port switch latency translates to sub-200ns memory-to-memory latency between processing elements, critical for RTT and edge analytics in 5G systems.
• Lower system power. Energy efficiency at 300mW per 10 Gbps with tunable port and link characteristics with rates from 1.25 Gbaud to 12.5 Gbaud enable an optimal power consumption management strategy to deliver superior power-efficient designs.
"Our RXS switches provide a seamless upgrade path for telecom companies and OEMs to increase interconnect bandwidth by up to 250 percent in baseband systems," said Sean Fan, vice president and general manager of IDT's Interface and Connectivity Division. "With over 110 million RapidIO ports shipped to date to more than 400 customers across multiple markets, IDT has been a leading innovator in enabling the rollout of 3G and 4G wireless networks, and we look forward to continuing that role with the development of 5G wireless infrastructure."
The RXS2448 comes in a 33 x 33 mm 1024-FCBGA package with volume pricing at $119. The RXS1632 comes in a 29 x 29 mm 784-FCBGA package with volume pricing at $89. The prices translate to as low as 20 cents per gigabit of bandwidth.