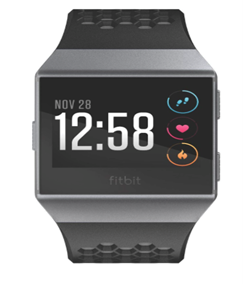 Fitbit just recalled its Ionic smartwatch. It seems the lithium-ion battery can overheat and cause a burn. Take it off and contact Fitbit to receive pre-paid packaging to return it. Upon receipt, Fitbit will issue a refund of $299 plus a discount code for 40% off select Fitbits. Approximately 1 million units were sold in the U.S. and 693,000 internationally.
The following models and colors are included in this recall. For the Ionic device, the model number (FB503) is on the back of the device near where the band attaches. Fitbit is printed on the front of the Ionic Smartwatch.
| | |
| --- | --- |
| Model | Color |
| Ionic FB503CPBU | Slate Blue/Burnt Orange |
| Ionic FB503GYBK | Charcoal/Smoke Gray |
| Ionic FB503WTGY | Blue Gray/Silver Gray |
| Ionic FB503WTNV | Adidas edition, Ink Blue & Ice Gray/Silver Gray |
There have been at least 115 reports in the United States and 59 internationally of the battery overheating. There were 78 reports of burn injuries in the United States, including two reports of third-degree burns and four reports of second-degree burns (40 reports of burn injuries internationally).