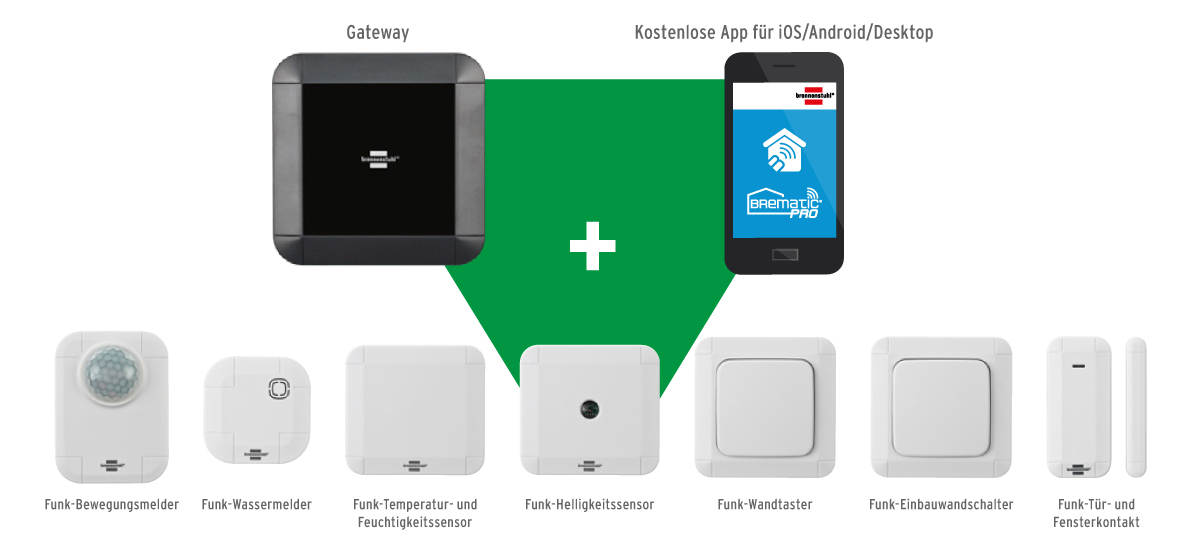 Conrad Electronic SE
Innovative wireless solutions enabling the smart home
It has been announced that Conrad Business Supplies is expanding its range of innovative solutions for intelligent building technology with brennenstuhl's new smart home product line Brematic PRO.
Martin Merkl, Head of Product Groups at Conrad Business Supplies, explained: "The extensive Brematic PRO range meets the growing demand from commercial users, such as installers, electricians, and 'maintenance, repair and operation' (MRO) technicians, and makes it easy for customers to get started in home automation."
The central control unit of the Brematic PRO system is a gateway which is WiFi connected to an existing router to enable the smart home. Communication to all Brematic and Brematic PRO modules is wireless. All modules and the devices connected to them can be controlled via a free app on a smartphone or tablet, or alternatively via PC. This allows the use of the Brematic PRO system without any follow up costs or additional hidden monthly costs. The system enables secure remote communication via cloud or VPN connections.
In order to realize highly individual Smart Home solutions, the range includes a number of wireless modules, such as motion detectors, water detectors, temperature and humidity sensors, brightness sensors, smoke and heat detectors, switch adapters, wall switches and wall mounted switches.
Brematic PRO is designed as a plug-and-play complete system and has unique features, such as a long range. The system is compatible with all 868.3MHz Brematic PRO series devices and existing products of the Brematic 433.92MHz range. In addition, compatibility with all major camera models for indoor and outdoor use is guaranteed. Voice control via Amazon Alexa is also possible.
Werner Laich, Key Account-Manager at brennenstuhl, commented: "With the Brematic PRO home automation system we developed a comprehensive program for the growing home automation market, which offers users simple operation, safety and ease of use. Compatibility with our previous 433MHz system is unique on the market. In addition, users benefit from a WiFi gateway which can be installed anywhere, the plug-and-play actuators and sensors as well as the convenient free app for controlling the system modules."