Interactive touchscreen mobile device changes shape on-demand
Tired of your traditional smartphone? The University of Bristol has come up with a new kind of modular mobile device that changes its shape on-demand.
This isn't the first modular device ever presented to the public, and there are currently a few models in the works, but this model includes touchscreens on every side of the modules to transform into any shape while still remaining functional.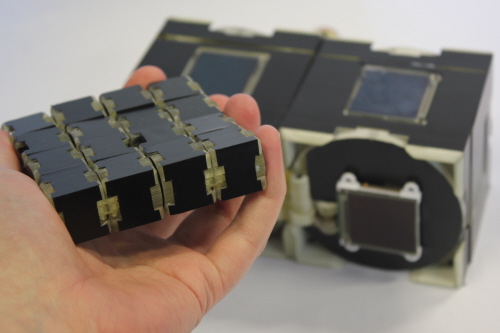 The interactive device, called Cubimorph, is being presented by Dr. Anne Roudaut from the Department of Computer Science at the University of Bristol, in collaboration with the Universities of Purdue, Lancaster and Sussex, this week at the International Conference on Robotics and Automation (ICRA).
Current modular interactive devices that are in existence, as well as the ones being developed, consist of folding displays that do not possess high shape resolution.
Cubimorph has touchscreens on each of its six faces and uses a hinge-mounted turntable mechanism to self-reconfigure in the user's hand.  One example of a potential use for the device is transforming a cellphone into a gaming console when a game is launched on the device.
Its chain-of-cubes composition contributes to the overall vision of programmable matter, in which interactive devices change shape to fit the end-user's individual needs.
The researchers will present a design rationale that demonstrates user requirements to consider when designing this kind modular interactive device for the public.
The will also show the Cubimorph's mechanical design and three prototypes that display key aspects: turntable hinges, embedded touchscreens and miniaturization.
"Cubimorph is the first step towards a real modular interactive device.  Much work still needs to be achieved to put such devices in the end-user hands but we hope our work will create discussion between the human computer interaction and robotics communities that could be of benefit to one another other," said Roudaut.
Watch the video below for more information.