Based in Munich, Germany, the aviation startup Lilium has ambitions to dominate airspace and offer an on-demand flying taxi service it claims will be five times faster than a car. And while the 40-engineer firm has a long way to go to reach this vision, it has just overcome its first major hurdle following the initial test flights of its electric plane.
"The prototype is supposed to do two things," co-founder and CEO Daniel Wiegand told WIRED Germany. "Firstly, it will demonstrate how our technology works. Secondly, it will help us collect data on test flights in order to develop the serial product in the next step."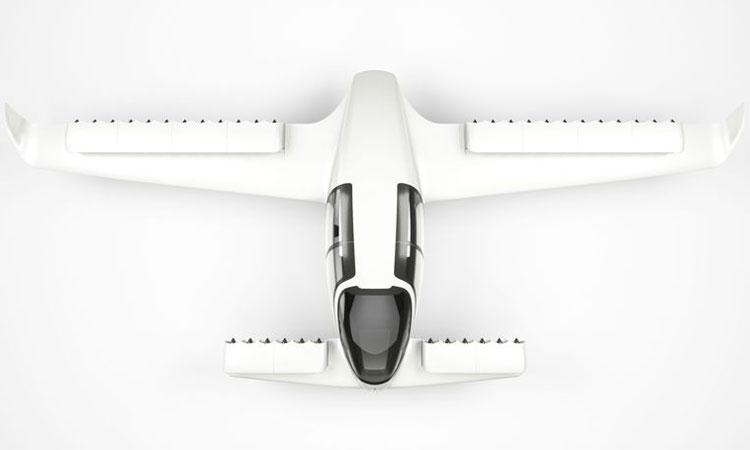 Lilium's zero-emission prototype aircraft seats two people and is powered by electric motors. It takes off vertically like a helicopter, using its vertical take-off and landing (VTOL) system, and flies using the lift from its engines. During manoeuvres, flaps on the aircraft's wings point down to help create a vertical thrust; when positioned horizontally, the aircraft flies like a conventional plane. For safety, the aircraft's engines are individually shielded, so the failure of a single unit doesn't affect adjacent engines, and the entire aircraft has its own parachute.
The VTOL system means it will also land vertically, in a 'small landing area', although the company has not revealed how small this landing area needs to be.
"The jet could also fly autonomously, but this is not allowed," continued Wiegand. "For the test flights, [the pilot] is on the ground flying the jet by remote control in the same way you would a drone. With people on board, the test operation will become much more complex but we must first collect data on flight behavior before taking that step."
Lilium would not be drawn on the technical data of its prototype, how far the plane has flown and exactly what it will be capable of in the future. What we do know is that the VTOL system is similar to that used by F-35B fighter jets the UK has purchased for its new £6.2bn warships. The company quotes a flight range of 300km with a cruising velocity of 300km/h.
Lilium adds that its plane is the first electric aircraft able to fly with both VTOL and jet-powered methods and, in terms of power, Lilium compared its jet's performance to that of a supercar, but with the energy only needed for 15 to 20 seconds to provide thrust. During flight mode, less than a tenth of the power is needed, dropping its energy consumption down to be comparable to that of an electric car.
Following a further stage of test flights, Lilium, founded in 2015, plans to develop a full-size working model of the plane that will be powered by 36 engines and carry five passengers, akin to a taxi.
"The jet is not for internet millionaires," said investor Frank Thelen. "It's not intended for rich private individuals," added Wiegand. "We want to make our invention accessible to everyone and this only works if we make the Lilium jet the basis of a new transport system, where you can order an aeroplane by an app."
When asked if it plans to work with Uber, Wiegand said: "We believe in the same vision [as Uber], and we are open to partnerships because we strongly believe in an ecosystem that develops around our idea. At the moment, however, we are concentrating on our work. We now want to develop our product to market maturity."