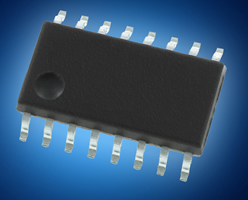 LLC Controller with Current Mode Control and Synchronous Rectification
Mouser Electronics, Inc. is now stocking the FAN7688 advanced pulse frequency modulated (PFM) controller from Fairchild Semiconductor. Integrating an advanced two-inductor, one capacitor (LLC) resonant controller with current-mode control and synchronous rectification (SR), the FAN7688 is one of the industry's first isolated DC/DC controller chips that adds charge current control to LLC resonant power supply units (PSUs) versus traditional voltage mode control. The robust features and high efficiency of the FAN7688 enables designers to improve the reliability and efficiency of their power supplies for a variety of uses, including servers, telecoms, PC, industrial, and TV applications.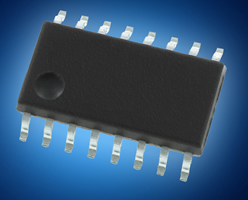 The Fairchild FAN7688 advanced PFM controller, available from Mouser Electronics, employs Fairchild's charge current control technology, enabling the controller to use current-mode control opposed to voltage mode control. Using a triangular waveform, the oscillator on the FAN7688 is combined with the integrated switch current information to determine switching frequency. This advanced technique offers better control-to-output transfer functionality of the power stage, which not only helps simplify the feedback loop design, but also allows true input power limit capabilities. A closed-loop soft-start on the FAN7688 permits a monotonic rising of the output voltage regardless of load condition. The efficiency of the FAN7688 is rated up to 97 percent (typical) for a 400V input/12V output power supply.
The FAN7688 controller's comprehensive set of protection functions also help in providing its best-in-class efficiency when it comes to isolated DC/DC converters. These features include over-load protection (OLP), over-current protection (OCP), output-short protection (OSP), over-voltage protection (OVP), over-temperature protection (OTP), and NON zero-voltage switching prevention (NZS).
Fairchild's FAN7688 advanced PFM controller is available now at Mouser Electronics in a 16-pin, SOP package, has a wide operating frequency spanning 36–690 KHz, and works over a temperature range from 40 to +125 degrees Celsius. The controller is ideally suited for a variety of applications, including desktop servers, telecom power supplies, intelligent off-line power supplies, high-efficiency DC/DC converters, industrial power and large screen display power.