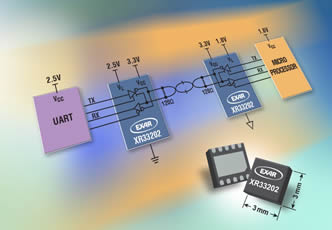 Lowest Power RS-485 Transceiver Includes Low Voltage Interface
Exar announces the XR33202, a half-duplex, 20Mbps RS-485 (TIA/EIA-485) transceiver optimized to operate over a wide 3V to 5.5V supply voltage range. The transceiver includes an adjustable low voltage logic interface and features the industry's lowest standby current of 3uA (max), 0.05uA (typ). The device's wide operating voltage range, flexible logic interface, and low standby current make it ideal for battery-powered and multi-voltage systems.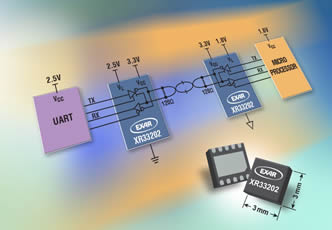 "The adjustable low voltage interface included in the XR33202 simplifies integration of the transceiver in low voltage and multi-voltage systems," said Dale Wedel, Exar's vice president, high performance analog products.
The XR33202 exceeds the highest ESD rating of IEC 61000-4-2 Level 4. It also includes protection features such as hot swap glitch, overload and enhanced receiver fail-safe for open, shorted or terminated idle data lines.
Specified over an extended temperature range of -40oC to 125oC, the XR33202 is offered in RoHS compliant, green/halogen free, space-saving 3mm x 3mm DFN package. 1,000-piece pricing starts at $1.60 each.
Summary of features:
• Wide 3.0V to 5.5V supply operation
• 1.65V to 5.5V I/O logic interface VL pin
• <3uA (max) standby current
• 20Mbps maximum data rate
• Robust ESD (Electrostatic Discharge) protection for RS-485 bus pins
• -40°C to 125°C ambient operating temperature range