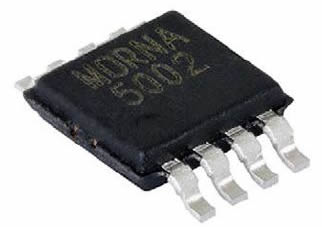 Dual-in-Line Thin Film Resistor Networks
Vishay Intertechnology introduced a new series of surface-mount, high-precision dual-in-line thin film resistor networks featuring improved performance and a smaller size than previous-generation SOIC devices. Offering a slim maximum seated height of 1.10 mm, the Vishay Dale Thin Film MORN series delivers lower TCR tracking to ± 1 ppm/°C, tighter ratio tolerances to ± 0.01 %, and excellent long-term ratio stability of 0.015 % after 2000 hours at +70 °C.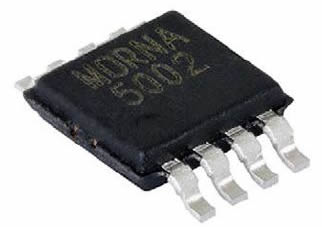 MORN series devices feature four isolated resistors with resistance values from 400 Ω to 100 kΩ. Offered in compact 25-mil-pitch, 8-pin MSOP packages — in accordance with JEDEC MO-187, variation AA — the resistor networks provide a rugged molded construction and typical power ratings of 50 mW per resistor element.
The integrated construction of MORN resistor networks allows for higher precision over discrete SMD chips, making the devices ideal for precision voltage dividers and unity gain operational amplifier circuitry. Typical end products will include telecommunications, industrial, process control, and medical instrumentation.
The devices feature extremely low noise of ≤ -30 dB and voltage coefficients of 0.1 ppm/V, and they operate over a wide temperature range of -55 °C to +125 °C. MORN series devices are RoHS-compliant and halogen-free.
Samples and production quantities of the new resistor networks are available now, with lead times of eight to 10 weeks for larger orders.