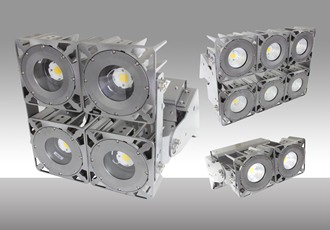 MaxLite launch ModMax for sports and flood lighting system
MaxLite introduces ModMax, a modular flood and sports lighting system designed to replace traditional 400-, 1000- and 1500-watt metal halide fixtures.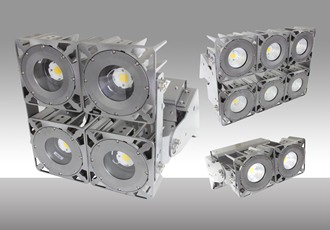 Offered in multiple wattages and mounting options to suit a variety of interior and exterior applications, ModMax delivers an output range of 20,000 to 60,000 lumens. ModMax is specifiable in two-row, 105-watt modules, with up to six modules configurable in a single luminaire. The four-module, 420-watt ModMax is capable of replacing the output of a 1000-watt metal halide fixture using 60 percent less energy. In every configuration, ModMax exceeds 86 lumens per watt and provides excellent color rendering, with an 85 CRI.
ModMax is a uniquely flexible lighting system. Each row of modules can be customized with one of three available optical distributions: narrow (29°), medium (40°) or wide (57°). Double pivot heads allow each row, as well as the luminaire's carriage, to be independently aimed for precise lighting. ModMax's pivoting rows, multiple beam angle combinations and high intensity light distribution are ideal for illuminating sports arenas and racked aisle layoutsin warehouses, manufacturing plants and distribution centers.The 420-watt, 1000-watt equivalent model delivers up to 50 footcandles and a 35' coverage radius at 30' mounting heights, efficiently meeting national guidelines for basketball court illuminance.
As a façade or wall wash solution, ModMax can replicate the performance and footcandle levels of 400- to 1500-watt metal halide lights with greater efficiency. One fixture allows for four concentrated spotlights that can highlight architectural details of buildings such as hotels, casinos and other sports and entertainment complexes. The durable luminaire's stainless steel and aluminum construction, and ability to withstand ambient temperatures of up to 122°F, enable ModMax to be used in a wide range of climates and outdoor applications, including cranes, docks and shipping yards.
Rated to an L70 lumen maintenance of 50,000 hours at L70 standards, ModMax comes backed by a five-year warranty and lifetime product support.