MedUX Unveils Ground-breaking 5G Benchmarking Report from Europe
MedUX announced the release of its 5G QoE Benchmarking Report in Europe, which they will present at the Mobile World Congress in Spain Pavilion. It highlights key findings on the performance and end-user experience of 5G networks in major European cities.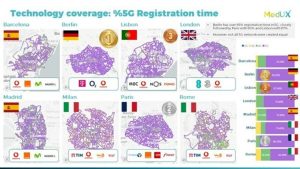 According to the report, Lisbon, Madrid, and Berlin have delivered the best 5G quality experience. London and Rome are among the worst performers. Lisbon won the Best QoE Award. Berlin has the most consistent network performance, closely followed by Barcelona, and Paris won the Reliability Award. The fastest 5G download speed was in Berlin, with live speeds of 1.5 Gbps on the Deutsche Telekom network. The speed was 5x the typical download speed in Lisbon in the range of 330 Mbps.
Portugal leads in 5G Gaming experience, with Lisbon having the highest score due to top typical latency and jitter below 44ms and 8 ms, respectively. Additionally, Lisbon has the best Data and OTT experience, while Barcelona was named the winner for Streaming Experience.
To learn more about the study and its findings, please visit https://medux.com/all-5g-networks-are-not-created-equal-unveiling-the-true-qoe-of-5g-in-europe/.