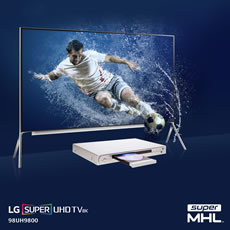 MHL consortium showcases latest superMHL innovations at CES 2016
MHL Consortium will have the latest superMHL innovations on display at CES 2016. For the first time, attendees will be able to get hands-on with a complete 8K home entertainment system powered by superMHL technology. MHL's latest specification supports advanced color and High Dynamic Range (HDR), which ensures that the picture not only packs in more pixels, but that the colors are deeper and brighter to deliver a more true-to-life image. Sound quality also gets a boost with object audio support.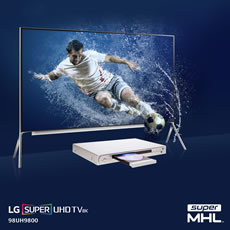 "Home theater owners seek the best in picture quality to complement their sound set -up. They tend to own larger screens and be relatively high consumers of movie content. This has already led to comparatively high take-up of 4K, so 8K could prove to be the next
logical upgrade for them," said Jack Wetherill, senior market analyst of home electronics at Futuresource. "As we have seen with 4K, the right connectivity is essential in delivering
content to sets, so superMHL technology will have a key role to play in the delivery of 8K."
Live Larger – 98" LG 8K SUPER UHD TV
superMHL technology on LG's new 8K SUPER UHD TV will be showcased in MHL's booth. The 98UH9800 delivers stunning 8K content and immersive audio, which inspires tomorrow's living room. LG's adoption of superMHL technology strengthens MHL® as an innovative audio and video connectivity standards leader able to meet the ever changing demands of the home theater market.
Connect More With Less – superMHL Accessories
To support 8K and advanced audio/video features, MHL developed the 32 pin superMHL connector that can carry concurrent audio, video, data and power all through a slim,
reversible, consumer-friendly design. MHL Adopters, JCE and KinnexA, will be showcasing superMHL accessories that will enable consumers to seamlessly connect their mobile
devices, set- top boxes (STBs), Blu-ray Disc™ players, AVRs, streaming media sticks and other source devices to TVs and displays.
The superMHL specification supports the following features:
• 8K video
• Deep Color
• Wider color gamut to view content the way filmma kers intended
• High- Dynamic Range (HDR) to strike the perfect balance of bright spectral highlights along with shadow details
• Immersive surround sound with support for Dolby Digital Plus, DTS, and an audio
only mode
• Power charging up to 40W
• Reversible superMHL connector
The Ubiquity of 900 Million MHL Products
MHL now has an installed base of 900 million products globally, and companies continue to release new products at a steady pace. The superMHL specification is backward-compatible with previous MHL 1, 2 and 3 versions, making the connection possibilities endless.
"The MHL standard enables people to create and connect by sharing their digital lives to the big screen. The products we're showcasing at CES add to the momentum first started with Samsung's superMHL demonstration last year," said Gordon Hands, president, MHL, LLC. "This growing support from leading companies is creating a vibrant superMHL ecosystem."