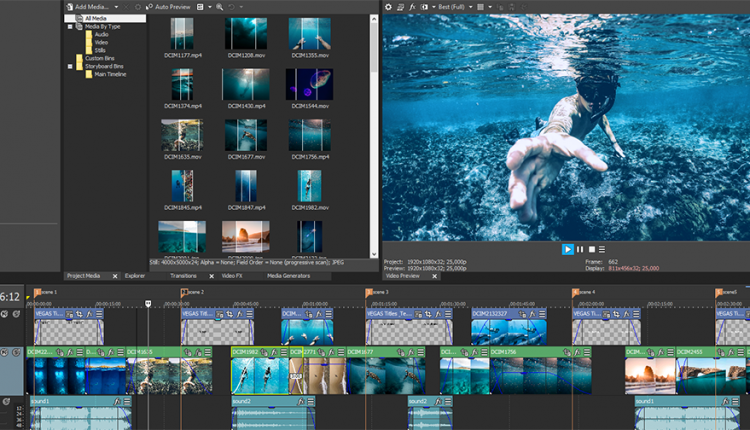 MAGIX
More intuitive, more powerful design studio
It has been announced that VEGAS Creative Software has released the all-new VEGAS Movie Studio 16. Powerful new features allow beginners as well as advanced users to create stunning videos in an efficient, fun editing environment. The Guided Video Creator leads users from the beginning to the end through four easy steps to a complete movie.
Even without previous experience, everyone can achieve impressive results. Focused editing modes offer specialized user interfaces to import and arrange files, add graphics, apply effects and transitions, and finish the movie. The user can easily switch between modes or jump into Power User mode for fast, efficient video creation.
"The unique Guided Video Creator helps anyone edit a movie fast regardless of experience level. When you're ready for more control, the streamlined mode-based workflow guides you through the process, and full-featured Power User mode gives you the ultimate creative control. VEGAS Movie Studio makes it possible for anyone to produce great videos no matter how much experience they have," said Gary Rebholz, VEGAS Movie Studio Product Owner.
Robust enhancements to the Project Media window make it easy to scrub through thumbnails to find the best part of a clip and set in and out points to isolate just the section of the video needed. For more precision, thumbnails can be resized. With the powerful interactive storyboard, users can quickly assemble a rough cut while edits instantly and automatically appear on the timeline. With these and many other intelligent workflow enhancements, VEGAS Movie Studio once again sets new standards in intuitive video editing.
In addition to these features in the basic version, the Platinum and the Suite versions introduce an impressive array of powerful new features normally found in professional video editing software. Precise motion tracking allows for easily tracking a moving object, isolating it to apply FX and adding text to follow it. The new video stabilization engine in VEGAS Movie Studio 16 quickly stabilizes wobbly footage and creates smooth, professional videos in an instant. With the complete 360° editing workflow, dual-fisheye footage can now be stitched, processed and exported with ease.
VEGAS Movie Studio 16 Suite offers advanced users an exciting package from NewBlueFX, including Titler Pro Express, for professional, animated 3D titles; the powerful and intuitive Chroma Key Pro; Essentials 5 Volume 3, with a large collection of professional-level tools to perfect colors, sharpen details, and polish the finished project; and much more.
"Users make it clear that they need tools which help them have fun while being productive," added Rebholz. "VEGAS Movie Studio 16 brings powerful tools like those the pros use to everyone, and makes creating videos easy even while offering the most sophisticated editing tools and features."
New features:
Guided Video Creator
Mode-based workflows
Interactive storyboard editing
Hover Scrub
In/Out points
Resizable thumbnails
Preview multiple selected files
Render cancel confirmation
Delete track warning
Exclusively in VEGAS Movie Studio Platinum and Suite:
Precise motion tracking
Video stabilization
Bézier Masking OFX
360° editing workflow
Auto save and backup
Add missing stream
Display length on event
Temporarily ignore event grouping
Indicate effects
NewBlue Transitions 5 Ultimate
Exclusively in VEGAS Movie Studio Suite is the NewBlueFX Packages. Titler Pro Express, Chroma Key Pro, Cartoonr Plus, Cinema Collection Template Pack, Fluid Template Pack, and Essentials 5 Volume 3 – all powerful tools to give all videos a polished, professional shine.
VEGAS Movie Studio 16 is now available online and in stores worldwide.