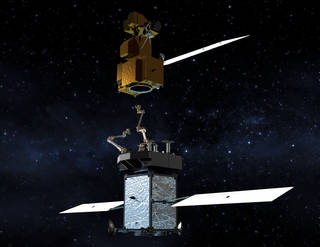 NASA robot will refuel spacecraft on missions
As we know, spaceships aren't exactly like cars — when you run out of gas, you can't just frequent the nearest station for a re-fill.
Currently, spacecraft launch to space with a set amount of fuel, limiting their  lifespans. That's why NASA is developing a new capability called robotic satellite servicing.  Last month, the space agency, decided to take on a mission to launch a robotic spacecraft in 2020 that will refuel a live satellite.
The mission, Restore-L mission, is the first of its kind in low-Earth orbit and will demonstrate that a suite of satellite-servicing technologies are fully operational. At the time, NASA is looking to refuel the Landsat 7 for the mission, a government-owned satellite in low-Earth orbit.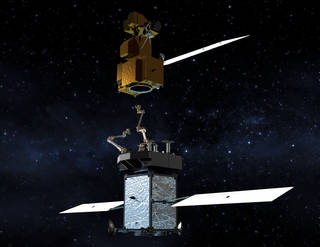 When the re-fueling robot encounters a spacecraft, it will implement a variety of technologies allowing it to grasp, refuels, and relocate a client spacecraft. According to NASA, the ability for the robot to perform these tasks will bring humans closer to making it to Mars.
Restore-L includes technology such as an autonomous navigation system and dexterous robotic arms and software. Additionally, a tool drive that supports a collection of sophisticated robotic tools for robotic spacecraft refueling, and a propellant transfer system that delivers measured amounts of fuel at the proper temperature, rate, and pressure will be present.
"Restore-L effectively breaks the paradigm of one-and-done spacecraft" says Frank Cepollina, veteran leader of the five crewed servicing missions to the Hubble Space Telescope. Cepollina now serves as the associate director of the Satellite Servicing Capabilities Office (SSCO), the team that first conceived of the Restore-L concept and developed its technology portfolio.
By introducing a refueling capability, satellite owners will be able to manage, maintain, and save their assets in space.
Servicing capabilities could help satellite owners manage their space assets in new ways, like launching a spacecraft with a half-empty fuel tank in order to save weight an accommodate other instruments.
"Dependable robotic satellite servicing unlocks countless opportunities," said Benjamin Reed, deputy project manager for SSCO.
Story via NASA.