Watch Nissan's super-fast GT-R drone race its super-fast GT-R car
Automaker Nissan has just unveiled its GT-R Drone – one of the fastest accelerating FPV (First Person View) racing drones in the world.
To show off the drone's capabilities, the company created this video, in which it demonstrates how the drone was created to be able to keep up with the new 2017 Nissan GT-R vehicle.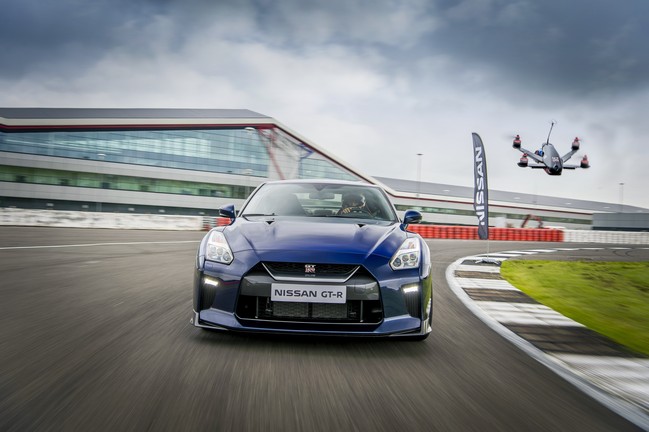 The drone was custom-designed by World Drone Prix Champions, Tornado XBlades Racing, and uses a special race tuned configuration which enables it to reach a speed of 62 mph from a standstill in just 1.3 seconds.
Watch the GT-R Drone take on the  supercar in the video below.
The GT-R car transfers power from its twin-turbocharged 3.8-liter 24-valve V6 to all four wheels, while the GT-R Drone displays acceleration via four propellers mated with 2000kV XNova motors and race specification Sky-Hero quadcopter frame.
Driving the car was Nissan NISMO driver Ricardo Sanchez, while James Bowles, the 2015 British National Drone Racing champion, piloted the GT-R Drone around a specifically-built 1.2-mile course.
Unlike the drone, the GT-R features new aerodynamic features, which are designed to keep it firmly on the ground.
[Spoiler Alert] The drone can surpass the vehicle in terms of acceleration, but the car's wheels soon catch up. The GT-R Drone has a top speed of approximately 115 mph versus the vehicle's top speed of almost 200 mph.
However, even the car's incredible four-wheel-drive system can't match the some of the drone's skill set. The quadcopter has a turning circle of under one foot, allowing it to perform daring and agile maneuvers.
More information: Nissan.