The electric power grids which supply energy to the machines that run our modern way of life are some of the largest interconnected systems in the world. With an increase in energy demand, changing environmental conditions and the need to accommodate diverse energy sources such as gas-fired plants and renewables, it is more important than ever to preemptively predict and prevent potential outages and failovers.
In rece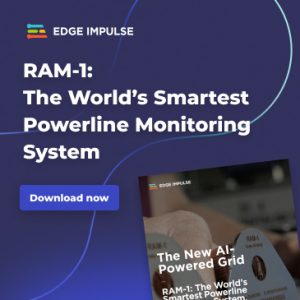 nt years, environmental conditions in places like California have resulted in infrastructure failures that resulted in major environmental destruction, property loss, and numerous human casualties. When it comes
to high-power electricity distribution, even a simple infrastructure failure can quickly escalate into catastrophic
consequences.
Download the case study below to learn more  about a smart grid monitoring solution developed in 2019 by Izoelektro, Irnas, Arm and  Edge Impulse, that runs embedded machine learning models.
This very solution allowed Izoelektro to build one of the most advanced power grid monitoring systems in
the world.
What's Inside?
Learn how the device processes electromagnetic field data on-device and utilizes embedded machine learning for event recognition, classification and prediction.
Features of the smart system that deliver ROI and longevity.
How to future-proof anomaly detection with proactive maintenance.