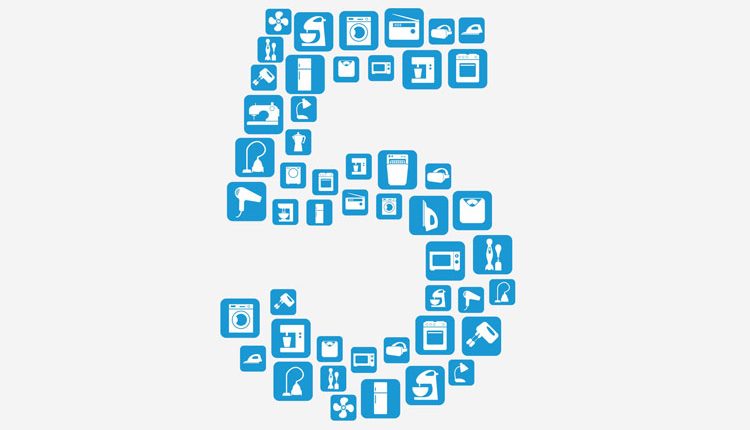 nRF52810: the world's most accessible Bluetooth 5 SoC
Nordic Semiconductor has announced that it has extended its nRF52 series of high-performance Bluetooth low energy Systems-on-Chip (SoCs) with the addition of a peripheral and memory-optimized variant, the nRF52810, that represents the most accessible, single-chip Bluetooth 5 solution available on the market today.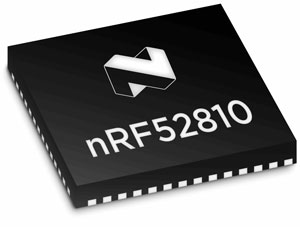 The nRF52810 SoC brings the key performance benefits of Bluetooth 5 to the most cost-sensitive, high-volume applications. These include: two times the data bandwidth (2Mbps) compared with the Bluetooth low energy implementation of Bluetooth 4.2; and eight times the broadcasting ability with advertising extensions that increase the advertising packet payload size to 251b for more efficient data transfer, particularly in beacon applications.
Example target applications include network-connected sensors and beacon building blocks for the IoT, low-cost wearables, low-cost wireless mice and keyboards for computers and tablets, toys, disposable medical monitoring devices, and basic RF remote controls.
The nRF52810 SoC is a 'subset' device of Nordic Semiconductor's high-performance nRF52 series (including the proven nRF52832 SoC with which the nRF52810 is pin-compatible, and the nRF52 series range-topping nRF52840 SoC). The SoC uses the same 100dBm link budget 2.4GHz multiprotocol radio as the nRF52832 SoC, and has a 64MHz, 32-bit ARM Cortex M4 MCU, providing similar RF performance and computational power with reduced radio energy consumption of 4.6mA respectively for Tx at 0dBm, and Rx at 1Mbps. Though nRF52810 is a baseline Bluetooth 5 SoC, a good selection of popular peripherals are still available. The nRF52810 SoC integrates 196kB Flash and 24kB RAM (compared with the nRF52832 SoC's 512kByte Flash and 64kB RAM) which is ample to run application code typical of high-volume, low cost applications. Over-the-Air Device Firmware Updates (OTA-DFUs) of target applications is also supported.
"No matter how simple the application, any wirelessly-connected device significantly benefits from the performance benefits that Bluetooth 5 offers," commented Geir Langeland, Nordic Semiconductor's Director of Sales and Marketing. "However, early Bluetooth 5 SoCs were too expensive to be justified for lower-level applications. Nordic has addressed that challenge with the nRF52810 SoC; this low-cost variant not only rounds out our nRF52 series offerings but it also opens up a whole new world of possibilities for simple, cost-constrained Bluetooth low energy applications.
"If the vision of an IoT comprising many billions of interconnected sensors is to be realized," continued Langeland, "those sensors will not only require decent range, throughput, and security but they will also need to be inexpensive to purchase, install, and maintain. The nRF52810 SoC brings that realization a little closer."
The nRF52810 SoC is compatible with the nRF52 Development Kit (DK) and application code compiled for the device is portable to all SoCs in the nRF52 Series. Application development is supported by the S132 SoftDevice, supporting up to 20 concurrent links in any combination of roles, and the nRF5 SDK.
The nRF52810 SoC is sampling now to selected customers. The SoC comes in either a 6x6mm 48-pin QFN package with 32 GPIOs, or a 5x5mm 32-pin QFN with 16 GPIOs. Key features include: 64MHz, 32-bit ARM Cortex M4 MCU, 2.4GHz multiprotocol radio with 96dBm sensitivity (at 1Mbps), 196kB Flash / 24kB RAM, ADC and analog comparator; PDM digital mic input; 4-channel PWM; SPI, I2C, UART; QDEC; +4dBm (max) output power, 4.6mA peak TX at 0dBm, 4.6mA peak RX.