NXP Introduces New Plug-and-Play Evaluation Tools to Accelerate Applications in RF Energy
Last week, NXP Semiconductors unveiled its new plug-and play evaluation tools designed to enable fast and easy testing of new RF energy applications. Applications range from solid-state cooking, RF sparkplugs, RF plasma lighting to RF heating/drying, medical therapy and more. The evaluation tools will be demonstrated alongside NXP's new RF energy power amplifier in copper flange package (air cavity plastic third generation, ACP-3) with breakthrough thermal performance and NXP's ninth generation of LDMOS (laterally diffused metal oxide semiconductor) which can be suited for S-band radar applications at the IEEE MTT International Microwave Symposium (IMS) 2015, booth #1141, at the Phoenix Convention Center.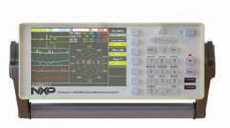 Designed from the ground up to enable engineers with simple plug-and-play testing for RF energy applications, the NXP evaluation tools feature control and measurement functions efficiently viewable from one screen. It also saves development time by eliminating the need for low-level programming and enabling all possible algorithms be set and tested at once. To further shorten time to market, the evaluation kit allows developers to use LabVIEW codes as example codes for final programming. This added functionality allows design teams to test without interrupting lab design workflows.
Power Amplifier in ACP-3 package, BLC2425M9XS250
Delivering breakthrough thermal performance management with 30 percent improvement compared to existing products, NXP's new amplifier enables product designers to improve, simplify and reduce cost for RF designs by saving board space.
S-Band Radar Applications – Gen9 LDMOS RF power transistors, BLS9G2934LS400
NXP announced that its ninth generation (Gen9) LDMOS RF power transistors can achieve required power and efficiency levels in S-band radar applications. S-band radar applications is a fast growing sub-segment in RF power applications. S-band radar applications include weather radar, surface ship radar and some communications satellites.
About NXP Semiconductors
NXP Semiconductors N.V. (NASDAQ: NXPI) creates solutions that enable Secure Connections for a Smarter World. Building on its expertise in High Performance Mixed Signal electronics, NXP is driving innovation in the application areas Connected Car, Security, Portable & Wearable and Internet of Things. NXP has operations in more than 25 countries, and posted revenue of $5.65 billion in 2014. Find out more at nxp.com.