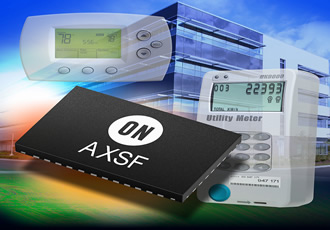 ON Semiconductor expands low power wireless solutions portfolio
ON Semiconductor has announced two major strategic developments to enable rapid deployment of Internet of Things (IoT) solutions.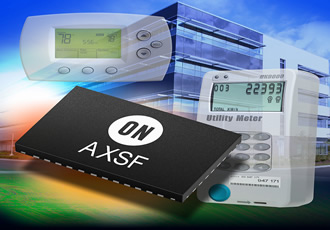 Working in conjunction with SIGFOX, the world's leading provider of dedicated connectivity for the Internet of Things (IoT), ON Semiconductor has confirmed that its AX-SFEU system-on-chip (SoC) is now fully SIGFOX Ready certified for optimal two-way communication in Europe with certification underway for the US. Through the AX-SF SoC, plus its accompanying library and development system, IoT developers will be able to easily use SIGFOX's long range, two-way global IoT network – resulting in a low cost, low-power device-to-cloud connectivity solution that is highly optimised for environmental sensors, smart meters, patient monitors, security devices, streetlights and a broad spectrum of other industrial and consumer-oriented applications.
The AX-SF SoC draws under 10 milliamperes (mA) of current when receiving data and has a sensitivity of -129 decibel-milliwatt (dBm) at 600 bits/second (bps) with GFSK modulation. The reference design, which does not require an expensive front-end module, features a 23 dBm transmitter and has only a 220 mA current consumption, enabling designers to markedly extend communication range while maximizing battery life.
ON Semiconductor also announced that it is now an official ARM mbed partner. The NCS36510 2.4 gigahertz (GHz) IEEE 802.15.4 compliant transceiver platform will include the mbed OS and Thread stack.  Access to the ARM mbed ecosystem in combination with Thread will again prove highly beneficial for IoT developers, helping them to produce more agile, robust, cost-effective solutions with end-to-end security and lower power budgets that better address their application demands.
"ON Semiconductor was very early to recognize and respond to demands for transceivers that provide extremely low-power, wireless connectivity for the IoT," states Stuart Lodge, Executive Vice President of Global Sales and Partners at SIGFOX. "Our fast-growing operated network, currently in 18 countries including the US and registering over 7 million devices, requires a reliable supply of high performance, low-cost and extremely energy-efficient integrated circuits, and our collaboration with ON Semiconductor helps assure those solutions will be available to our customers."
We are committed to delivering a comprehensive portfolio of innovative low power wireless solutions to enable the rapid deployment of IoT devices and solutions. Our AX-SF ultra-low power sub GHz solution gives developers robust and reliable two-way connectivity to the SIGFOX global network," said Ryan Cameron, Vice President and General Manager of the industrial and timing division at ON Semiconductor.  "Meanwhile for the LAN environment, our industry leading 802.15.4 platform based on the NCS36510 now provides users access to the ARM mbed ecosystem coupled with the benefits of Thread for security and interoperability. SIGFOX, in combination with Thread, also has great potential for use cases where multiple connectivity solutions can be mixed to create new user experiences.