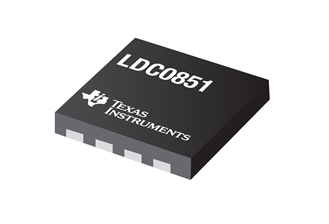 TI introduces the first differential inductive switch
Texas Instruments (TI) introduced the industry's first differential inductive switch, with a dual-coil architecture that automatically compensates for variations in temperature and component aging. The LDC0851 detects the presence or absence of conductive material by using a simple coil drawn on a printed circuit board (PCB). This unique approach enables low-cost, highly reliable switching implementations for a variety of uses including buttons, knobs, door open/close detection, and speed and directional sensing in personal electronics, appliances, industrial equipment and communications applications.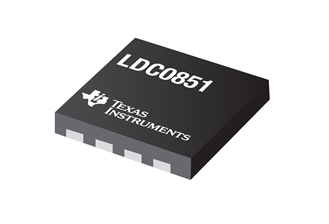 The LDC0851 provides a temperature-stable switching accuracy of better than 1 percent of the sensor coil diameter, removing the need for production calibration and minimizing part-to-part variation. Unlike alternative sensing technologies, the LDC0851's contactless and magnet-free design is immune to dirt, dust or other environmental factors, providing designers a reliable, low-cost solution. The device joins TI's distinctive portfolio of inductive-sensing integrated circuits (ICs) including the LDC1614 family of multichannel inductance-to-digital converters.
Key features and benefits of the LDC0851:
Stable switching threshold: The differential architecture maintains the switching threshold across variations in temperature, humidity and other environmental factors, as well as providing immunity to component aging for stable, long-term performance.
High accuracy: The device can deliver better than 1 percent switching accuracy, which is up to 10 times more accurate than magnetic sensor-based designs, reducing the need for production calibration.
High reliability: The device's immunity to nonconductive contaminants such as oil, dirt and dust can help extend product lifetimes and reduce replacement costs. The solution is also unaffected by direct current (DC) magnetic fields, ensuring robust operation and reliability in a wide range of environments.
Low power: Duty cycling of the LDC0851 allows for less than 20-uA average current consumption at 10 samples per second, which is up to five times lower than competitive solutions.
Tools and support to jump-start design
The LDC0851EVM evaluation module helps designers easily configure the LDC0851 and start designing it into a system without programming. The LDC0851EVM is available now in the TI store and through authorized distributors for US$20.
An incremental rotary encoder reference design (TIDA-00828) demonstrates the LDC0851 in a simple 32-position rotary-knob design. Using only two LDC0851 inductive switches, the system can track rotation position and direction, and designers can easily scale the number of encoder positions up or down. Other inductive-sensing reference designs are available in the TI Designs reference design library.
System designers can start their inductive-sensing design in minutes with TI's WEBENCH Coil Designer. This online tool simplifies sensor-coil design based on application and system requirements. The optimized design is exportable to a variety of computer-aided design (CAD) programs to quickly incorporate the sensor coil into an overall system layout.
Package, availability and pricing
The eight-pin LDC0851 is available now in a 2-mm-by-2-mm very-thin small-outline no-lead (WSON) package from the TI store and authorized distributors. Pricing is US$0.38 in 1,000-unit quantities.