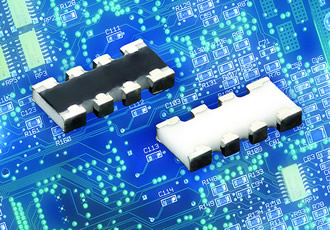 Vishay Thick Film, Multi-Resistance-Value Chip Resistor Arrays
Providing an alternative to thin film arrays in applications requiring lower performance, Vishay Intertechnology introduced the industry's first thick film chip resistor arrays to offer multiple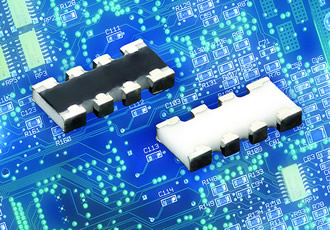 resistance values in one device. Allowing designers to lower pick-and-place costs and save board space in automotive and industrial applications, the AEC-Q200-qualified devices are available with two resistors of different values in the 0606 case size (CRAS0606), or two pairs of resistors with different values in the 0612 case size (CRAS0612 and CRAE0612).
With resistance from 10 Ω to 1 MΩ, resistance tolerance of ± 1 % and ± 5 %, and TCR of ± 100 ppm/K and ± 200 ppm/K, the Vishay Draloric resistor arrays released today are to be used as voltage dividers, operational amplifier feedback circuits, and DC/DC converter output voltage sensing.
The convex terminal arrays are available with square corners (version S) or scalloped corners (version E). RoHS-compliant and halogen-free, the CRAS0606, CRAS0612, and CRAE0612 feature a 50 V operating voltage and power dissipation of 0.063 W per element at +70 °C, and they operate over a temperature range of -55 °C to +155 °C.
Samples and production quantities of the thick film, multi-resistance-value resistor arrays are available now, with lead times of 10 weeks.