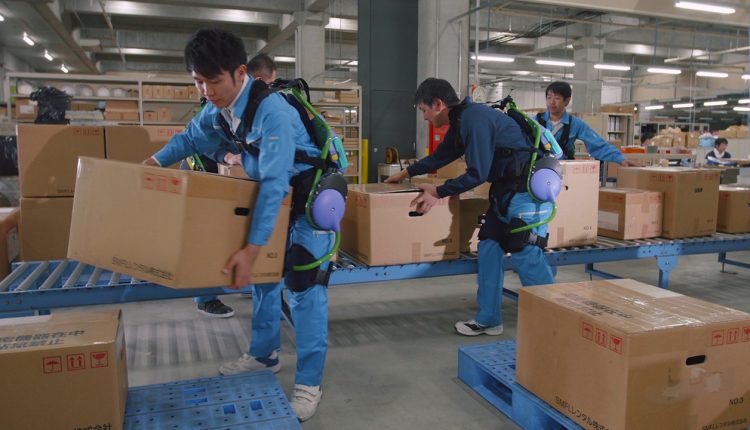 Panasonic has a variety of wearables in the works — wearable robots that is. The company recently released a video featuring its assist robots, which were developed to help factory workers and the elderly. The company has applied its control and sensor technologies to create the line of wearable robots that are equipped with motors that assist with human body mechanics.
The power assist suits for industrial use have been developed by Activelink Co., one of Panasonic's in-house venture companies, and include the  AWN-03: Back support offering Assist Suit, the "Ninja", the Power Loader, as well as a variety of of robotic suits for elderly support.
The AWN-03  provides lower back support by automatically sensing the user's motion when lifting and holding heavy objects. It then sends a signal to the motors to rotate the gears. It then raises the user's upper body while pushing on their thighs, and as a result reduces stress on the user's lower back by about 33 lbs.
The "Ninja" assists the user's motion while walking and running and the Power Loader can be used for assistance with  disaster relief, construction, and public works thanks to its four hand sensors and 20 foot-controlled motors.
Panasonic has  also developed the robotic suits to contribute to elderly care, which can be physically straining, in order to improve the quality of life for both the elderly and their caregivers.
Panasonic's Resyone is an electric nursing care bed and wheelchair combo that splits in half so that caregivers no longer have to lift residents back and forth between the two.
The Self-Reliance Support Robot assists the elderly when moving from the bed to any other position. This robot senses the slightest of movement and can predict how the person is doing based on the information gathered by the sensors. The robot's motors only provide the level of power necessary, allowing residents to use their own remaining muscle strength and prevent unnecessary muscle atrophy and strain.