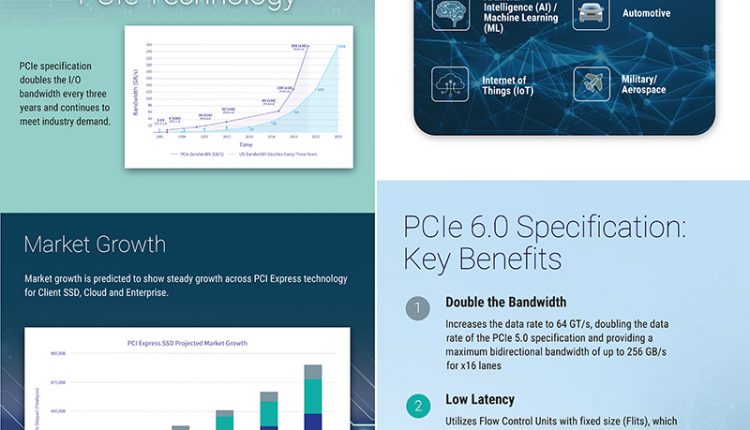 PCI-SIG® Releases PCIe® 6.0 Specification
PCI-SIG® announced the official release of the PCIe 6.0 specification, reaching 64 GT/s transfer speeds, doubling PCIe 5.0's data rate, and providing low latency and reduced bandwidth overhead.
Features include:
64 GT/s raw data rate and up to 256 GB/s via x16 configuration
Pulse Amplitude Modulation with 4 levels signaling, leveraging PAM4 already available
Lightweight Forward Error Correct (FEC) and Cyclic Redundancy Check (CRC) to mitigate the bit error rate increase associated with PAM4 signaling
Flit (flow control unit) based encoding supports PAM4 modulation and enables more than double the bandwidth gain
Updated Packet layout used in Flit Mode to provide additional functionality and simplify processing
Backwards compatibility with all previous generations of PCIe technology
To learn more about PCI-SIG, visit www.pcisig.com. PCI-SIG members can download the full specification here.