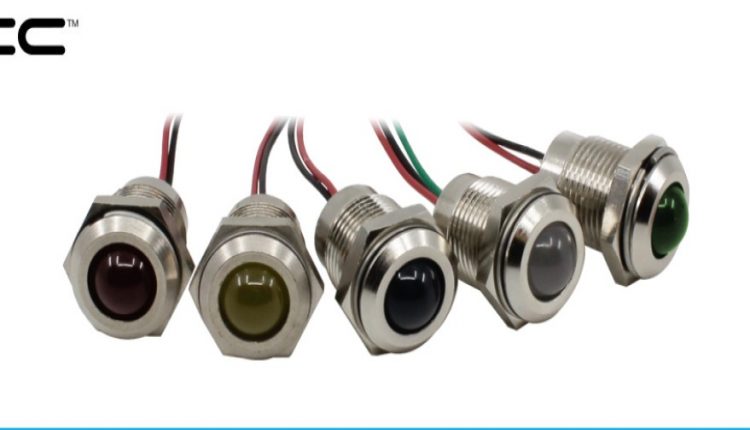 The PMI That Won't Call It Quits
 Visual Communications Company (VCC), a recognized global leader in the illuminated electronics market with advanced indication and HMI solutions, announced its latest rugged PMI lineup — the CL Series.Designed to withstand dirt, grease, vibration and even vandals, the CL Series is the perfect PMI for the toughest jobs. With a nickel-plated brass housing and hole diameter of 0.555" (14mm), this series:
Ups the ante on visibility – a prominent LED enables better viewing, with angles ranging from 20° to 50° degrees.
Utilizes the right power for jobs of all sizes – the CL Series is available in 2V to 60V options, as well as high-voltage heroes like the 120VAC and 240VAC models.
Delivers extra stability – with 6" wire leads the CL Series is internally potted for added protection against vibration.
Offers extra-ruggedness in every way – included accessories like a hex nut, spacer and gasket make the CL Series resistant to shock, vandals, and excuses.
Uses intuitive visual language – available in popular red, yellow, green and blue single-color LEDs, as well as a bi-color red/green option.
Ensures quitting time is over a decade away – average operating life of 100,000 hours makes the CL Series is one you can always count on.
"The CL Series doesn't skimp on features that add up to top performance in the worst conditions, from the IP67 rating to protection from shock and vandalism, this PMI lineup can handle the big jobs in automation, signaling, main power indication and beyond."
Sannah Vinding, Director of Product Development & Marketing, VCC
VCC's robust and reliable CL Series will be available to customers through its distribution channels in March 2020.