Polaroid releases this Wi-Fi enabled camera cube for photo fun
Warning: This is not the Polaroid camera from your past.
Who needs a regular camera when you can take awesome pictures with a handheld cube-looking one? The Polaroid Cube+ just made its debut at CE Week 2015 in New York.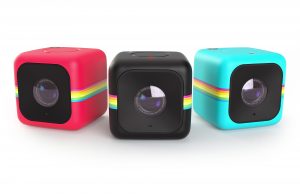 In addition to taking still images and 1080p video, the new Polaroid Cube+ now includes Wi-Fi capabilities in its small 35mm squared frame. The camera is compatible with iOS and Android devices via the Polaroid Cube+ app so users can sync the camera with their smartphone or tablet to capture and share their videos and photos instantly.
The app also allows users to control the Polaroid Cube+ camera directly from their mobile device or even use the device as a viewfinder to ensure every shot is captured just right. In addition to those features, users can edit, save, print and share their videos and photos from their mobile device using the app.
The Polaroid Cube+ features a simple one-button design and a rubber exterior all wrapped by the iconic Polaroid Color Spectrum. It comes with a built-in magnet so you can attach it to bicycle handlebars, helmets, and even household appliances.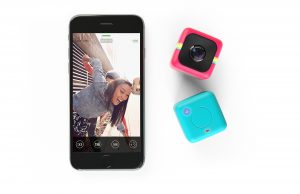 Polaroid is also releasing some other cool gizmos at CE Week like two new colors of the original Polaroid Cube (hot pink and glow-in-the-dark green). Current accessories being offered include a bumper case, strap mount, suction cup mount, waterproof case, bicycle mount, helmet mount, and tripod mount.
The recently launched Polaroid Zip instant photoprinter is being showcased as well. It is now available in blue and red along with the original black and white versions. The compact mobile printer allows photographers to instantly print and share 2"x3" photos right from their smartphone or tablet via Bluetooth.
Pricing & Availability

The Polaroid Cube+ lifestyle action camera will be available in August for $149.99.
The pink and glow-in-the-dark green versions of the original Polaroid Cube will be available in late August for $99.99.
The Polaroid Zip photoprinter is currently available in all four colors for $129.99.