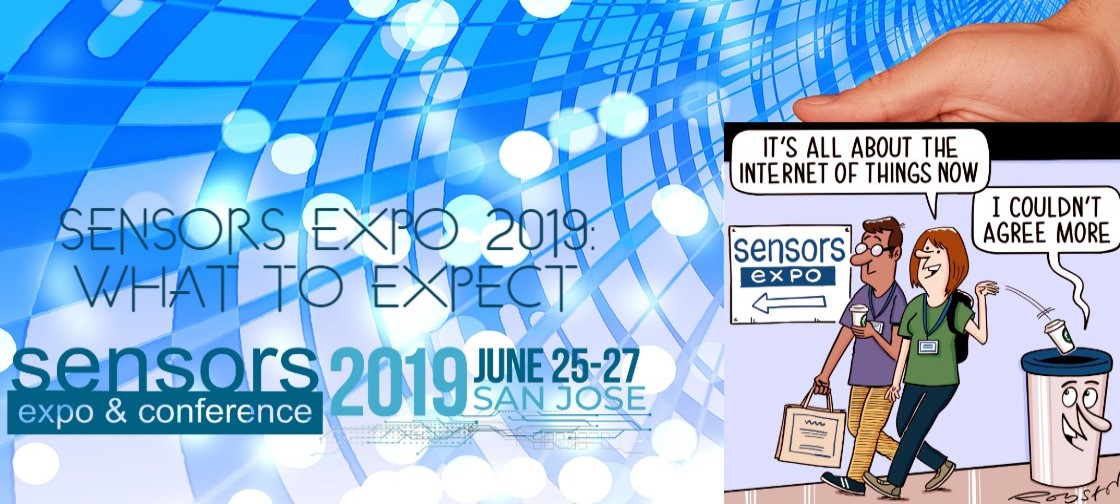 Sensors Expo brings together thousands of engineers to meet with exhibitors so they can get acquainted with the people who make the products they use, get their hands on them and see for themselves how they'll work in current projects. Take a look at what's being presented, demoed, given away, and trending at this year's Sensors Expo in California. We've also scoured LinkedIn for a more comprehensive look at what's trending! Take a peek:
PowerFilm Solar
Demos of Indoor Solar Development kits
Sneak Peek here.
TDK Electronics
NTC sensor elements for temperature measurement up to 650 °C
Miniaturized MEMS accelerometer with excellent linearity
3D position Hall sensors with unique stray field compensation
Cirtec Medical
learn more about micro-scale circuits and components
Elkem Silicones Protecting Sensors
Protecting your sensors with a new silicone gel for electronic protection, as well as our other silicone solutions for high-temperature resistance, lightweight applications, and thermal management.
Don't forget about the PICMG Sensors Challenge
Bring your favorite 4-20mA sensor to booth 2017 to see how easy it is to create a plug-and-play sensor! PICMG's demo showcases the three main components of the company's IIoT initiative:

Control and visualization station
IP-enabled Smart Sensors, binary-enabled Smart-Sensors
Multilingual Smart Sensor gateways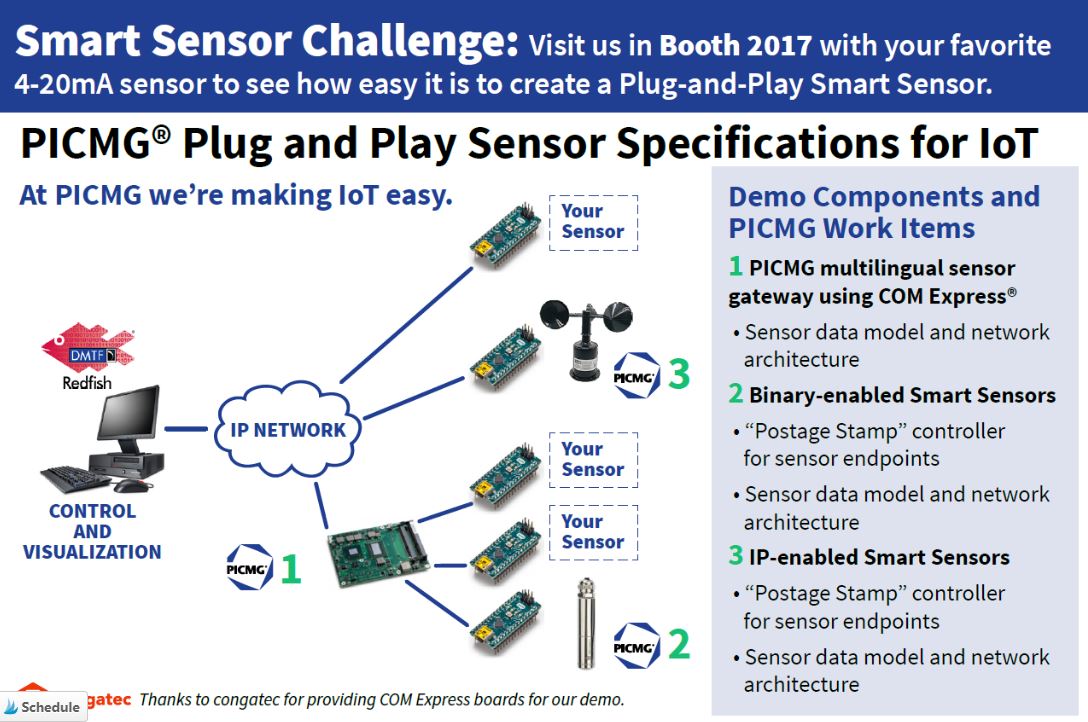 Mouser Robot and a Headphone Giveaway
Join Mouser and the Mouser Robot to find inspiration for your next project with the newest sensors, connectivity and IoT products and technologies for design.
Be sure you enter for a

free

chance to win a

free

pair of Bose QuietComfort 35 wireless headphones. Register today!
Bosch Sensortec Brings Smart Features to the Ear
Launch of the BMA456 accelerometer variant with integrated hearable features
TTI, Inc.
From improved resolution to lower power consumption, TTI will show you how updates to sensor technology are adding precision to industrial automation, equipment, and more…
TE Connectivity
Sensors in HVAC
TE & Verdical: Growing the Future of Food Tech
FX29 Compact Load Cell
Dynamic Inclinometer Demo
Semea Tech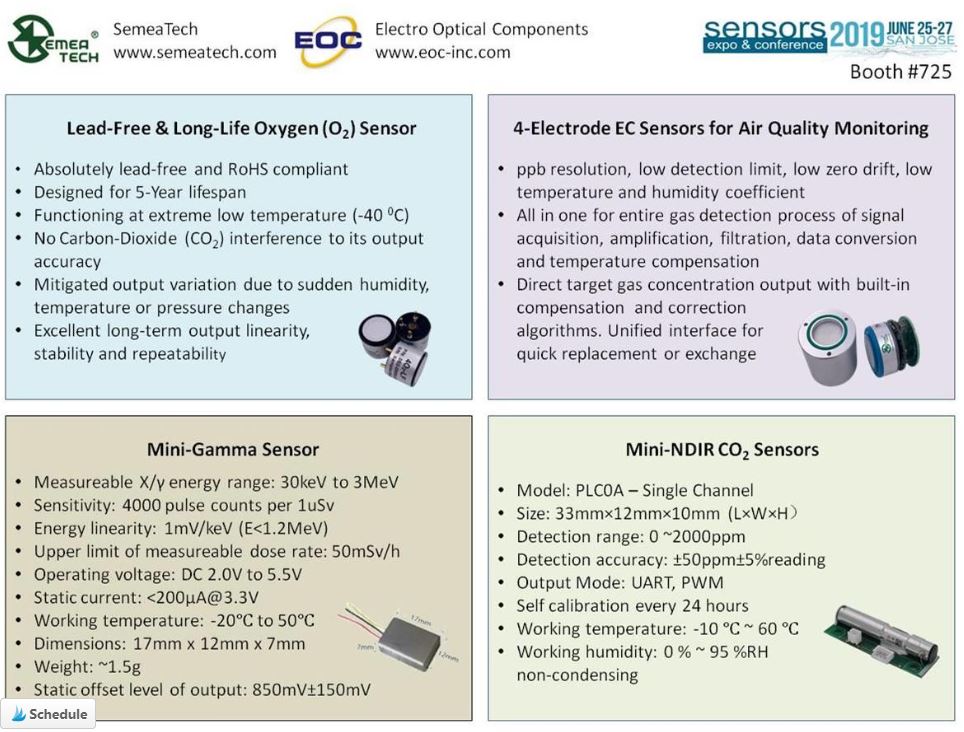 IoT Forum on Computer Vision
Join IoT Forum members, guests, and invited experts for an afternoon of innovation discovery, product demos, startup pitches, and great networking to explore the opportunities around computer vision and machine vision in IoT.
Key Trending Areas
At Sensors Expo 2019, attendees will be privy to 10 main focus areas, or "tracks," in order to better plan out their time and focus on applications and trends that matter most to them.
Chemical & Gas Sensing

Gas-sensing tech
Trending: air quality (outdoor, indoor)
Internet of Water

Energy Harvesting & Power

Smart energy storage
Rapid prototyping with solar
Low-power monitoring for nano power sensors
Boosting energy of edge devices

IoT & Wireless

Battery-free wireless sensors (also, specifically for industrial)
Bluetooth mesh networking
RF sensing
Olli- the 3D-printed, self-driving, crowdsourced bus
Voice-first for IoT
IoT security

MEMS

Wearables
Pressure-sensing
Market outlook and overview
Sensors + Flexible substrates
AI-based vehicle automation

Optical Sensing

Integrated photonics beyond telecon
Spectral sensing
Computational sensors

Process Manufacturing

Challenges of designing sensors for valve applications
Predictive maintenance and smart sensors
capacitive ceramic pressure sensors

Sensor Applications

LiDAR technology
Commercialization challenges (IoT in wearables and high volume apps)
Smart feedback systems in modern robotics
Smart sensing devices interact more naturally now
TMR magnetic sensor tech
Mini infrared temperature sensor

Sensors Data & Advanced Analytics

Sensor fusion and real-time data for connected cities
Usable intent with AI
AI and machine learning

Sensors in an AI Universe

Future of intelligent interactions
CMF analog-digital ASIC with embedded AI processing
Context awareness
AI at the endpoint device

Smart Cities

Forever connected anywhere devices
Air quality
Evolution of smart buildings