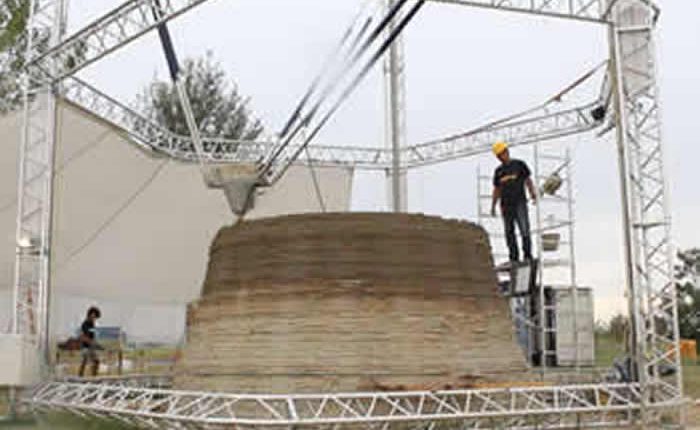 Before starting again with renewed energy, WASP is taking one week break. "We have already proved that two men and one machine can 3D-print a comfortable and healthy shelter with extremely little money. We are very satisfied of the results, even if we know there is still a lot to do," said Massimo Moretti, WASP Founder and Creator of Shamballa Technological Park, the place where BigDelta printer, 12m high, has been assembled and started 3D-printing, for the first time, a soil and straw building.
"Predictably, it has been hard, extreme in some ways, but at the same time incredibly exciting considering the results already achieved."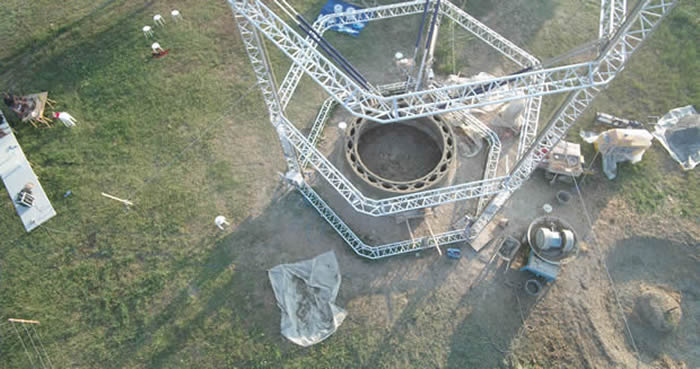 Solved problems
The list of the problems faced and constantly solved every day in the experimental camp in Massa Lombarda (Ravenna) is long. One of the larger issues was to develop an extruder able to lay down scores of mixtures. To verify if the machine mechanism was able to stand a continuous work of material deposit, the problem was solved by loading a significant amount of material and supervising the extruder during the printing phase, to look for printing interruption and recovery.
The numbers
270cm of clay and straw wall, 5m diameter, using 40 tons of material have been printed.There are 135 layers overall, with an average weight of 300kg each; with each layer taking 20 minutes to create. There was about 2m3 water and 200Kwh consumption. The cost output: energy €35, water €3, straw €10, motor hoe gasoline €3: total €48. Using feet instead of the machine for kneading would save costs and lower the energy consumption by 90%.
Growing fast
"Clay and straw with no additive can be easily printed in 3D," Moretti said, "The period of transformation from liquid to solid allows to print around 60cm per day, or even more in the summer (maybe one meter per day). Therefore two men and one machine can 3D-print a comfortable and healthy shelter in a very short time and with really little money". The wall is of high quality, following the initial analysis, it can bear a lot of stress, while the abundance of fiber guarantees its endurance. The relationship between weight and performance originated from clay and straw doesn't seem to require additional support for the walls. To avoid the plaster placer mining they used 10% lime.
The second phase
"When the work starts again, we will raise the wall until 4m, then we'll create the door and build the roof. In the future we will test new materials and continue the research on soil and straw," explains Moretti. "New challenges in the improvement of systems for cheap and fast material preparation are coming. The printer is doing its job and after the last changes in kinematics we will modify something in the extruder too. The aim is automating the system and giving the machine the possibility to print a shelter in few days. The goal is just around the corner."