Hobbyist builds Raspberry Pi powered underwater drone
Hobbyist Niels Affourtit, was inspired by a National Geographic documentary in which he witnessed an underwater rover explore the ruins of Italian cruise ship Costa Concordia.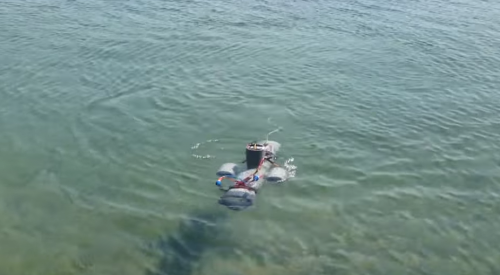 "I was impressed and started searching online to see if I could build one myself. I ended up at openrov.com and decided to build mine from scratch using their knowledge," wrote Affourtit on his YouTube channel.
The entire project took Affourtit about 250 hours and cost roughly $400. When it was complete, he was left with an underwater drone controlled by Raspberry Pi (Raspbian, 1B+). Portions of the rover were 3D printed and can be controlled via Ethernet cable, streams live HD video with PiCam, and has been tested to a depth of 12 meters so far.
In the video below you can see his underwater drone's maiden voyage, which took place in a sweet water lake in the Netherlands in May.
Video via Niels Affourtit/ YouTube.
Story via Raspberry Pi.