Researchers Start 3D-Printing In Gold And Copper
A research breakthrough by a team from the University of Twente in the Netherlands has discovered that gold and copper are sturdy enough for 3D printing.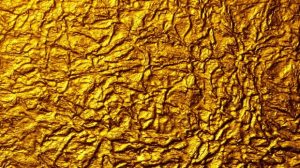 The melted the gold and copper with laser light to create micro-droplets. Since metals are sturdier than plastic and good conductors of heat and electricity this opens the door for an entirely new set of components and devices that can be 3D printed such as smartphone chips.
The issue
Metals have a high melting point so even if you're using sophisticated equipment it can still be very challenging.
"Especially for small resolutions of 100 nanometers to 10 micrometers there were no good solutions to the printing of metal," said UT researcher Claas Willem Visser.
The Solution
The UT researchers used a laser to melt copper and gold into micro-droplets which are collected onto a substrate. By doing this repeatedly, 3D printing is possible.
The team's article that appears in Advanced Materials describes how they organized thousands of droplets into micro-pillars with a height of 2 mm and a diameter of 5 micrometers. They were also able to print vertical electrodes in a cavity and lines made ​​from pure copper.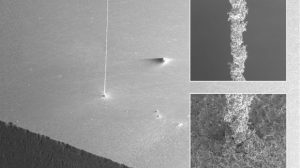 The high-energy laser the researchers used allowed for increased droplet speed and created a pancake shape. In their article, they describe the main difference between the high-energy laser they used and their previous attempts with a low-energy laser.
The team's ultimate goal is to create a clean-cut 3D-printing process using materials such as metal, gels, pastes, or extremely thick liquid as possible.
Reference
Towards 3D Printing of Pure Metals by Laser-Induced Forward Transfer , Advanced Materials, June 10, 2015.