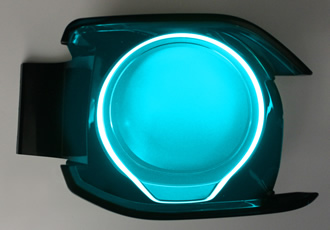 Ring light from GLT provides distinctive illumination
The new ring light from Global Lighting Technologies is a bright and uniform circle of LED-based illumination that lends a special look and appeal to lighting applications. It uses as few as 1 LED, can be produced in a variety of colors, and can be integrated into a wide variety of products.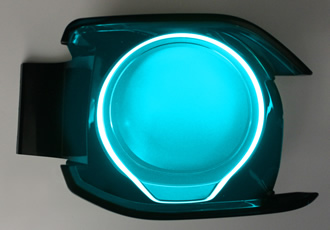 In automotive applications, GLT's lighting technology can provide distinctive illumination for daytime running lights, dashboards, doors, sills, interior illumination, cup holders, side markers and tail lights.
In addition to automotive, GLT's ring light can be used in a wide range of products from desk lamps to wall wash on thermostats and smoke detectors as well as product logo illumination, imparting a special look and appeal that distinguishes the products it's used in.
The light is bright and uniform, and can be created in a continuous ring, a segmented ring, or an arc. The optical portion of the ring light contains an injection molded optical light guide incorporating LEDs aligned on the input edge containing custom designed optical extraction features to evenly distribute the light rays around the ring.
GLT works with customers to seamlessly integrate the ring light into their custom products, providing full engineering and prototyping services. With more than 1.25 million square feet of manufacturing space in 5 facilities in Taiwan and China, GLT can build customers' products in even the highest volumes.