This week we learned of a significant advancement in the field of robotic surgeries. Johns Hopkins University in Maryland has made strides, allowing robots to perform surgical procedures on soft tissue.
The team from Johns Hopkins University, led by computer scientist Simon Leonard, has proved that a robot surgeon can adjust to the subtle movement and deformation of soft tissue to execute precise and consistent suturing.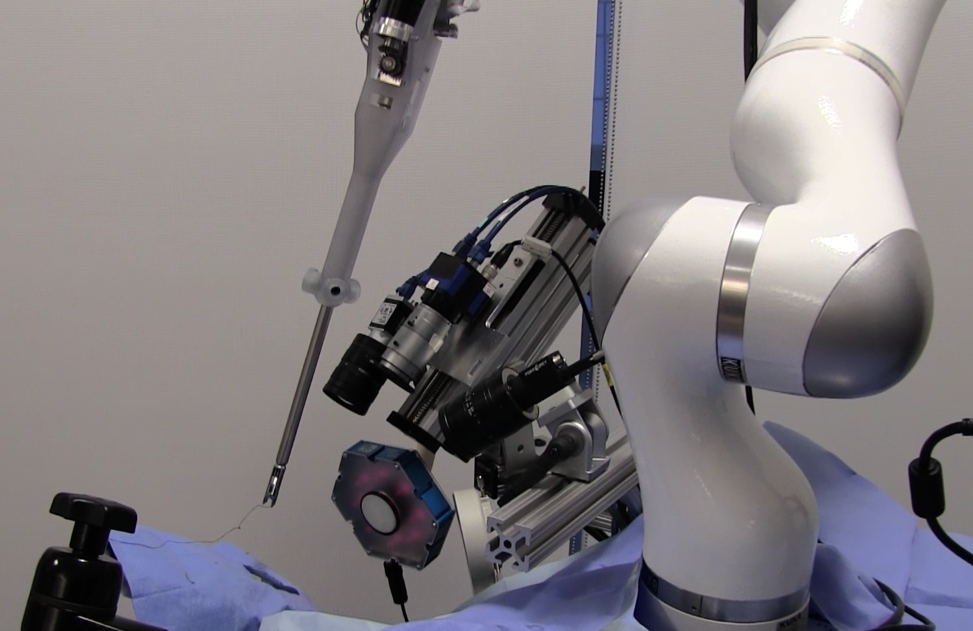 They recently revealed results from their robotic surgeon tests in which they examined how a robot compares to manual surgery and laparoscopy for porcine intestinal anastomosis (dealing with soft tissue), and found that the autonomous surgery performed by the robot was superior.
Currently, robots are offering some limited assistance to surgeons in cases involving more rigid structures like bones. However, soft tissue is a little more difficult since it can move and change shape as stitching continues, usually requiring a surgeon to respond to the changes and keep suturing more tightly and evenly.
Leonard worked for four years to program the robotic arm at Johns Hopkins University to precisely stitch together pieces of soft tissue.
Limited robotic automation is already used in surgeries involving rigid structures such as bones, which are much easier to hold still during the procedure. Soft tissue can move and change shape in complex ways as stitching goes on, requiring a surgeon's skill to respond to these changes to keep suturing as tightly and evenly as possible.
The researchers employed the robotic surgical system called the Smart Tissue Autonomous Robot, or Smart Tissue Automation Robot (STAR), which features a 3D imaging system and a near-infrared sensor to spot fluorescent markers along the edges of the tissue to keep the robotic suture needle on track. Unlike most other robot-assisted surgical systems, it operates under the surgeon's supervision, but without hands-on guidance.
The researchers used factors like consistency of suture spacing, pressure at which the seam leaked, mistakes that required removing the needle from the tissue or restarting the robot, and completion time to determine just how qualified the robot was.
According to the researchers, more than 44.5 million soft-tissue surgeries are performed in the United States each year.
The teams do not look to replace human surgeons, though. Instead, they view robotic surgeons as expanding the capabilities of human surgeons, in the same way a fancy sewing machine can assist a human.
View the team's paper here.