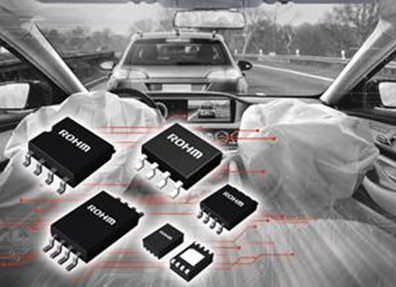 ROHM's Faster 125°C Operation Compatible EEPROMs Extend Life in Harsh Environments
ROHM's new 125°C operation compatible I2C bus EEPROMs, the BR24H-5AC series, address data storage applications in harsh environments, including factory settings for onboard cameras and sensors, airbag operating history, and data logging for always-on operating industrial automation systems and servers.
ROHM claims that the BR24H-5AC series is the first in the industry to achieve a writing time of 3.5ms, reducing writing time by 30% compared to the 5ms of conventional products. Compared with standard products capable of just 1 million rewrites, the BR24H-5AC series guarantees up to four million writing cycles by data endurance, extending application service life, and enabling data loggings requiring frequent data rewrites.
For automotive and industrial equipment, safety and traceability requirements include store operating history in non-volatile memory. EEPROMs are typically used when high reliability is necessary, given their ability to reliably write and store data under harsh conditions. This series of I2C bus EEPROMs is designed to reduce process time before factory shipment in automotive and industrial equipment applications.