ROHM's New Compact VCSEL Proximity Sensor Contributes to Greater Miniaturization and Battery Capacity in Wireless Earbuds and Other Wearable Devices
ROHM Semiconductor announced a compact 2.0mm × 1.0mm proximity sensor, the RPR-0720, optimized for applications requiring attachment/detachment and proximity detection.
As the use of IoT continues to grow, sensor devices that play a critical role are requiring greater miniaturization and functionality. ROHM offers a lineup of proximity sensors that combine light-emitting and receiving elements in a single package, providing unmatched versatility that has led to widespread adoption in various applications, from mobile devices to industrial equipment. Particularly for wearable devices, in response to the growing demand for small proximity sensors that can support improved designs and an increase in the number of parts resulting from higher functionality, ROHM developed a compact proximity sensor that integrates a VCSEL and sensor IC.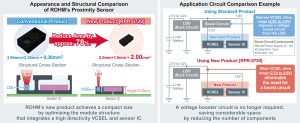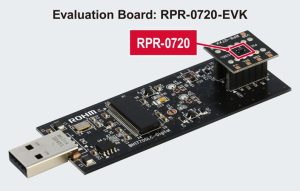 The RPR-0720 is an optical sensor module that adopts a VCSEL featuring higher directivity than LEDs as the light-emitting element and a sensor IC for the light-receiving part. Compact size is achieved by optimizing the module structure using in-house chips, reducing area by approximately 78% compared to conventional products. At the same time, the wide input voltage range (2.7V to 4.5V) of the built-in VCSEL eliminates the need for a peripheral voltage booster circuit (i.e., consisting of a power supply IC, three capacitors, and one inductor) when using a Li-ion battery, contributing to more significant space savings that lead to smaller applications and increased battery capacity. This makes it suitable for sensing attachment/detachment and detecting various conditions in a wide range of applications. 
In the future, ROHM will continue to develop sensing products that meet customer needs by combining original light-receiving and emitting elements to improve energy savings and convenience further.