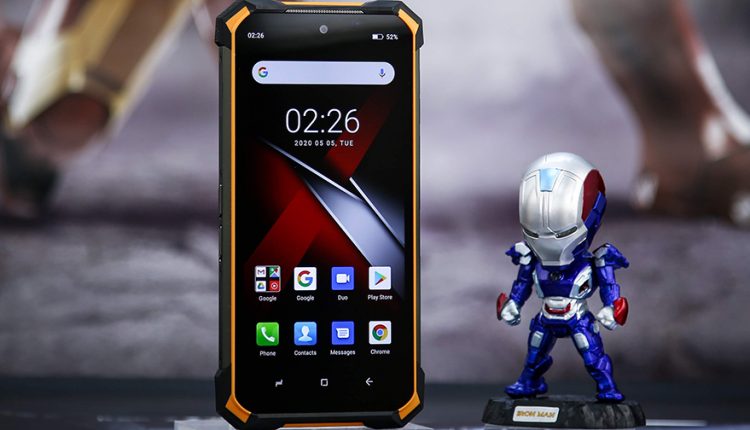 DOOGEE Hengtong Technology has announced the launch of its latest phone, the DOOGEE S88 Plus. The DOOGEE S88 Plus has improved on the S88 Pro launched late in 2020 by increasing the RAM from 6GB to 8GB for better performance and now includes a Samsung AI Triple Camera (48MP+8MP+8MP) instead of the S88 Pro's SONY 21MP + 8.0MP + 8.0MP cameras.
The S88 Plus also features a 10,000 mAh battery, unique LED lights and IP68 /IP69K/ MIL-STD-810G protection. The S88 Plus is available in Army Green, Fire Orange and Mineral Black from AliExpress globally for $199.99/£150.16 between January 25th – 31st (RRP $349.98). DOOGEE also currently have a giveaway where entrants can win five of their phones which will be broadcast live on YouTube on 1st February.
With a Helio P70 processor, the S88 Plus incorporates a powerful Arm Cortex-A73/A53 octa-core CPU complex with an impressive Arm Mali-G72 class GPU. This makes the phone 13% faster than those with a P60 processor and provides 10-30% more AI processing efficiency. Running on Android 10 OS, it offers more features than ever before and an intuitive and fluid performance.
Boasting an impressive screen, the S88 Plus has support for 20:9 displays at full HD+ resolution that allow users to enjoy the smartphone with full fascia coverage. With 128GB ROM there is plenty of room for storage and it is able to hold up to 420 episodes of a favourite show, 80 2D games or 1600 albums as well as 8GB RAM so content can be appreciated at high quality with a smooth multitasking experience.
LED Back Light & Screen
The LED back light that is under the black translucent tempered glass is the pioneer design of the DOOGEE S88 Pro. It works and lights up for calls, messages, music and other notifications in different colours dependent on the notification. For example, the LED back light shows as blue for messages and calls, red for other notifications and can be blue/green/red for music.
The 6.3" Full HD waterdrop screen gives an immersive experience whilst using the phone. Providing superior clarity and vivid colours, it is also protected by Corning Gorilla Glass to allow it to resist daily drops and scratches easily. With 1500:1 contrast, 410 PPI pixel density and 1080*2340 resolution, it will impress whilst in use. The new gesture navigation system is also simple and easy to control by swiping to open different aspects of the menu, apps or to operate Google Assistant.
Rugged Capabilities
Built for intensive outdoor use and to withstand all environments, the rough and rugged DOOGEE S88 Plus has an IP68 /IP69K rating and has been tested in all conditions to ensure it is resistant to damage from being dropped and water immersion as well as shock and impact. The rugged phone has been tested to be drop-proof up to 1.5 meters height as well as testing to be waterproof up to 2 meters depth and has also undergone brick pressure and sand immersion tests. Made using top two-colour injection molding techniques, the hard and soft rubber of the phone are integrated to create a protective shield.
The S88 Plus also has a survival software pack to make it not only a great rugged phone but also a professional phone for any hiking lovers. The apps available are ideal for those adventurous walkers, including compass, sound meter, height measure, magnifier and plenty more essential apps for activities.
Camera
Featuring an impressive Samsung AI Triple rear camera (48MP+8MP+8MP), the phone is ideal for capturing pictures and clips whilst travelling or exploring. The powerful camera system includes a Samsung 48MP AI main camera, 8MP 130° ultra-wide-angle lens and 8MP macro lens to give a premium quality and experience for photography.
The Samsung S5KGM1 Sensor chip ensures that images taken of fast-moving objects or people remain clear and sharp as well as having an integrated HDR for high resolution stills and 4K video when in dark or night-time scenes making it ideal for use no matter the time of day. The 130° ultra-wide-angle lens expands the view of images to capture a whole scene in one frame effectively.
In addition to the rear camera, the S88 Plus also includes a Samsung S5K3 16MP selfie camera with an 80° wide angle lens. This camera can be used to enhance facial features and it automatically identifies ages and smoothens different skin tones depending on gender to give the highest quality and best image of users – Instagram worthy pictures instantly!
Battery & Reverse Wireless Charging
Featuring a huge 10,000mAh battery, the DOOGEE S88 Plus gives the ultimate solution for smartphone users. Ideal for travelling, the battery can provide 10-15 days of normal use meaning that there is no need for low battery anxiety or to pack an extra power bank.
Offering a massive 470 hours of standby and 47 hours of talk time, it is suited for keeping connected whilst on the move. Additionally, the S88 Plus features 5W reverse wireless charging allowing it to charge other devices without cables for ultra-convenience.
Security
For enhanced security, the S88 Plus includes both face recognition as well as NFC and side fingerprint recognition to unlock the phone. The multi-function NFC allows users to conveniently and safely use Google Pay. Designed to be extremely quick and easy to use, it makes unlocking the device as simple and secure as possible.