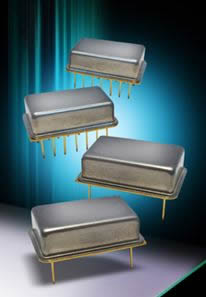 Saelig New Mil-Spec High Reliability Crystal Oscillators
Saelig announced two new ranges of military specification crystal oscillators, designed for use in applications that demand high reliability. Available in industry standard dual-in-line packages, the new EQXO-1000BMK and EQXO-3000BMK clock oscillators feature a custom-designed quartz crystal and a CMOS/TTL compatible hybrid circuit mounted on a ceramic substrate.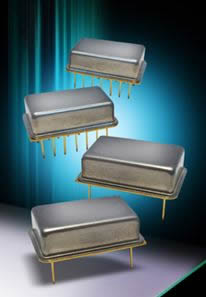 Manufactured using the latest advances in production technology, these oscillators achieve tight frequency calibration tolerance and high stability over a wide temperature range. The frequency range available is from 200kHz to 200MHz, with a calibration tolerance of ±30ppm at 25°C and a frequency tolerance of ±100 to ±50ppm over the full military temperature range from -55 to +125°C (±100 to ±30ppm over industrial temperature range from -40 to +85°C).
The high reliability ceramic substrate is packaged in a hermetically-sealed DIP metal package with four pins (EQXO-1000BMK) or 14 pins (EQXO-3000BMK) for extra mechanical security. Additional design specifications include 5000g shock survivability, 20g vibration survivability, a double-sealed construction, low EMI emission, and standard 5.0V DC operating supply voltage, with other voltages available by request. Start-up time is 5ms maximum, with rise/fall time of better than 6ns. The standard output is CMOS-compatible at 50pF with other outputs available to special order.
Ideal for aerospace, defense and other applications where high-reliability clock oscillators are required, the new EQXO-1000BMK and EQXO3000BMK crystal oscillators can be screened to MIL-O-55310F, class B if required.
The EQXO-x000BMK series oscillators are made by European frequency product specialist Euroquartz, an independent UK-based manufacturer and supplier of quartz crystals, oscillators, filters and frequency-related products to the worldwide electronics industry. The company is AS9100 registered and designs and manufactures a comprehensive range of frequency control components for a wide range of customers for military and aerospace, communications, general electronics, computing, control systems and petrochemical applications. These high reliability oscillators are available now from Euroquartz' USA distributor Saelig Company. Inc.