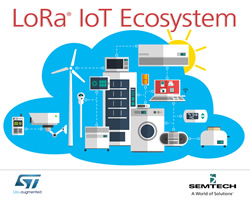 Semtech and STMicroelectronics Collaborate to Scale LoRa Technology
Semtech Corporation and STMicroelectronics announced an agreement on Semtech's LoRa long-range wireless RF technology. ST intends to use the technology to target Internet of Things (IoT) deployments by mobile network operators (MNOs) and large-scale private networks.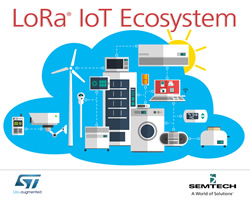 ST will join the LoRa Alliance and release reference designs for LoRa technology based on its STM32 family of microcontrollers. ST plans to develop microcontrollers with on-chip LoRa technology that supports the LoRaWAN™ standardized protocol. Semtech and ST will cooperate to integrate LoRa technology into multiple platforms that target a variety of applications for several business initiatives around LoRa.
The LoRa Alliance, with its LoRa ecosystem, is the fastest growing alliance in the IoT sector, and the addition of ST will help standardize LoRa and LoRaWAN for IoT low-power wide-area networks (LPWAN) worldwide. Both Semtech and ST believe standardization and a strong ecosystem will foster technology adoption to achieve the large volumes projected for IoT.
"There is tremendous success and momentum behind the LoRa Alliance and MNO announcements of LoRaWAN-based nationwide network deployments," said Marc Pegulu, Vice President and General Manager of Semtech's Wireless, Sensing and Timing product group. "Having a premier silicon supplier of the LoRa technology such as ST, with its strong presence in the industrial and connectivity market, reinforces that Semtech's LoRa RF technology, LoRaWAN protocol, IP and chip-set are becoming the de-facto standards for IoT LPWANs."
"The combination of our large family of industry-leading STM32 microcontrollers, together with the LoRa technology through our partnership with Semtech, will further strengthen our position on the IoT, Smart City, and Industrial markets, where our portfolio of controllers, sensors, connectivity, security, analog, and power solutions already make ST formidable," said Claude Dardanne, Executive Vice President and General Manager of the Microcontroller, Memory & Secure MCU Group, STMicroelectronics. "By contributing our IP and SoC design expertise, we anticipate promoting the deployment of more LPWANs worldwide, and enabling many applications with a standardized ecosystem of service providers and solutions developers."