Simplifying Data Communication: How IrDA 4 Click Offers Cost-effective IR Data Transfer
The technological world is in a constant state of advancement, with new products and innovations continually pushing the boundaries of what's possible. The latest development from MikroElektronika is no exception. The renowned developer has just unveiled a new addition to its wireless connectivity Click boards – the IrDA 4 Click.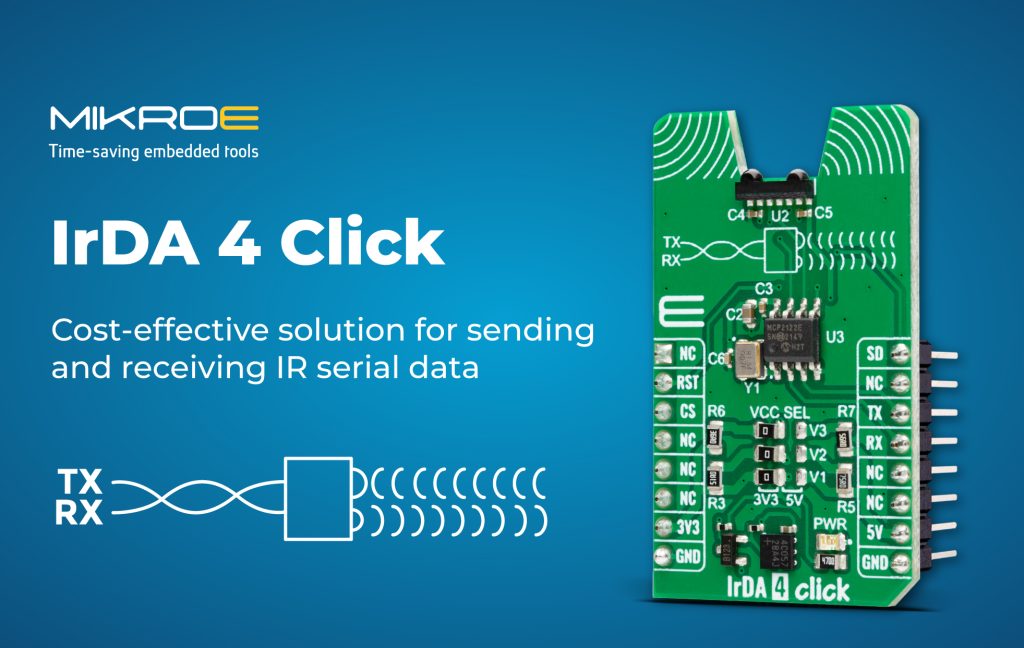 This compact board offers an impressive cost-effective solution for transmitting and receiving IR serial data, making it an ideal choice for a range of applications. Central to the IrDA 4 Click is the incorporation of the TFBS4650 infrared transceiver. This component, provided by Vishay Semiconductors, combines a PIN photodiode, an infrared emitter, and a low-power integral circuit to deliver reliable performance.
Additionally, the IrDA 4 Click includes the MCP2120 infrared encoder/decoder from Microchip, facilitating the exchange of IR serial data between the infrared transceiver module and the host MCU.
The Click board concept, developed by MIKROE, revolutionizes how new functionalities are added to development boards. These modular prototyping add-on boards enable design engineers to interchange peripherals, significantly reducing development time efficiently. The mikroBUS socket standard allows for seamless connection between any Click board and the microcontroller or microprocessor on a central board. Major microcontroller manufacturers such as Microchip, NXP, Infineon, Dialog, STM, Analog Devices, Renesas, and Toshiba have adopted the mikroBUS socket on their development boards.
According to Nebojsa Matic, CEO of MIKROE, the IrDA 4 Click provides an ideal solution for short-distance communication and data transfer, particularly in environments where RF connectivity may pose challenges.
The IrDA 4 Click is accompanied by a mikroSDK-compliant library that simplifies software development by offering various functions. This Click board is delivered as a thoroughly tested product, ready to be integrated into systems equipped with the mikroBUS socket.
Learn more at:  Click Boards – MIKROE