Single output DC power supplies provide 200A current
Saelig Company have announced the PSU-series of single output programmable switching DC power supplies that can provide up to 200A current and cover a power range up to 1520W. These high efficiency, high power density supplies include five models from 6 to 60V rated voltages. The PSU-series can be connected in series for increased power capacity: up to two units in series or up to four in parallel to cover a broad coverage of applications.
PSU 12.5-120 provides 12.5V at up to 120A
PSU 20-76 provides 20V at up to 76A
PSU 40-38 provides 40V at up to 38A
PSU 6-200 provides 6V at up to200A
The PSU-series of 19″ rackmount (1U) single channel power supplies from GWInstek provide Constant Voltage/Constant Current selection – a very useful safety feature for protecting a Device Under Test (DUT). The power supplies normally operate in Constant Voltage (CV) mode when turned on, but, if connected to a capacitive load, this could cause a high inrush current or current-intensive load at the power output stage. Running in constant current mode limits current spikes, protecting the DUT from inrush current damage. The Over-voltage (OVP) and Over-current (OCP) protection levels can be selected from 10 to 110%, with the default level set at 110% of the power supply's rated voltage/current.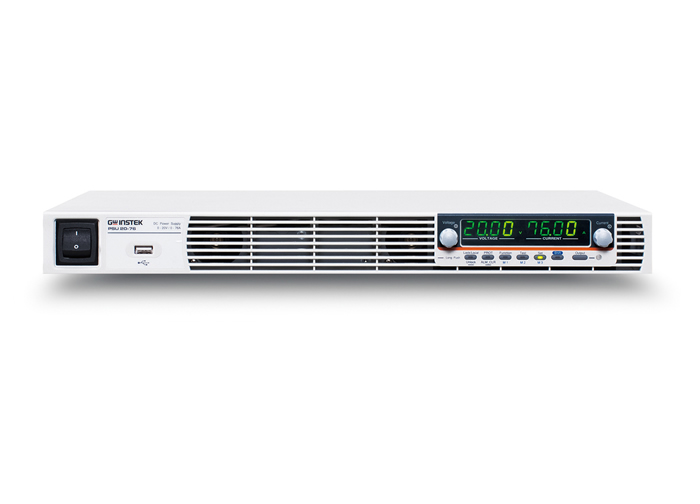 The adjustable slew rate of the PSU-series allows users to set either output voltage or output current with a specific rise time for low to high level transition, and a specific fall time for high to low level transition. This facilitates the characterization of a DUT during voltage or current level changes with controllable slew rates. The Output On/Off delay feature enables the setting of a specific time delay for Output On after the power supply output is turned on, and a specific time delay for Output Off. When multiple PSU units are used, the On/Off delay time of each unit can be set respectively at preset time points. This multiple-output control can be done through the analogue control terminal at rear panel or through the PC programming with standard commands.
The PSU-series provides USB Host , USB Device , LAN, RS-232 with RS-485, and isolated analogue control interfaces as standard. A LabView driver is also available for rear-panel external control of Power On/ Off and external monitoring of the power output voltage and current.