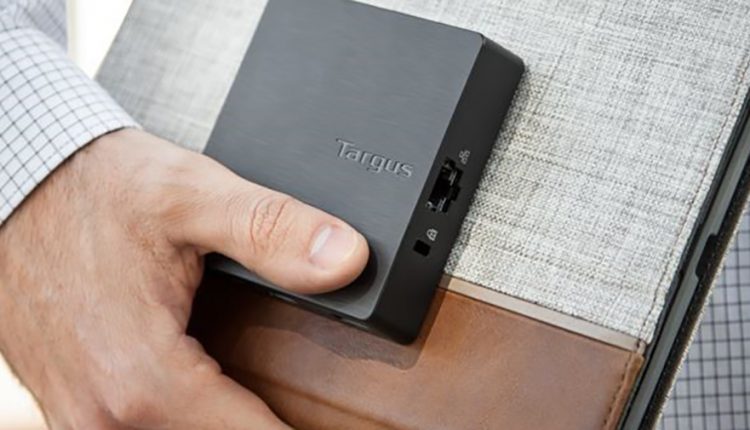 Targus is showcasing its range of products and solutions aimed at supporting the specific needs of today's modern office worker. Leading the range of solutions will be DOCK190EUZ, Targus' innovative docking station that is universally compatible across a broad range of devices.
The global rise in remote working practices calls for mobile technology solutions that transcend the workplace. Employers expect peak efficiency and productivity at all times. In turn employees expect to be provided the necessary technology solutions to empower them to work anywhere without having to compromise on their working conditions.
Targus defines the modern worker as any employee who is not confined to the four walls of the office from nine to five. An average day for the modern worker could include traveling between various locations – ranging from the office, to home to business meetings. The modern office worker needs to be able to work efficiently and their work set-up – wherever it may be – needs to be equipped with the right tools to support seamless working.
At IFA 2019, Targus will unveil a showcase that mimics the optimal 'working from anywhere' set-up. The products on show will include a wide range of solutions to suit the many needs of the modern workers, including connectivity, power, confidentiality and security against theft and physical damage to company hardware. Also on-site will be certified chiropractor Dr Samera Bhatti who will be conducting posture analysis sessions. She will provide visitors personalized tips on working well from home and improving overall workplace well-being.
The range of universal docking station solutions on display will highlight how home office workers and flexi-workers can easily connect multiple peripherals at a time to their laptop.
As modern laptops and devices become slimmer and sleeker, this comes at the expense of the number of ports available for use. Users often struggle to find ways to connect their multiple peripherals – whether they may be screens, mouse, keyboards, phones or headsets – within limited ports. This is made even more prominent with USB-C emerging as the most common connector, further limiting the options available to users. Docking stations are an innovative option to make the most of the limited number ports on modern devices.
The benefits of docking stations extend far beyond the working space. Casual gamers will find that docking stations make it easy to plug their gaming devices in to larger screens to heighten the experience. Docking stations also allow users to easily cast their favorite streaming services to a larger screen without a smart TV – a perfect addition to every household.
Just one docking station per household can support multiple laptops and devices of different brands, enabling all users to connect seamlessly and make full use of the space available without the need for cumbersome cables.
At IFA, Targus will be promoting its the DOCK190EUZ, that allows for Ultra High Definition dual 4K video and up to 100W charging via Power Delivery. This innovative dock boasts a sleek, modern design and its small footprint makes it a great choice for tight spaces.
Other docking stations on display include the ultra-portable DOCK412EUZ, a compact dock that provides essential connectivity ports but fits easily in your bag.
The universal DOCK120EUZ is great for those who haven't yet upgraded to a USB-C device and it's entry-level pricing offers affordable connectivity at home with just a single USB 3.0 connection.
The DOCK180EUZ is Targus' best-seller, offering connections to two Ultra HD monitors and four USB ports to support multiple peripherals. It's the perfect combination of power and productivity for both office and remote workers alike.
Also on showcase will be a wide range of products to support the mobile office worker. From cable locks to privacy screens – these products play a critical role in providing an added element of security when working remotely.
David Brown, Marketing Director EMEA at Targus, said: "Most businesses today will provide their employees with the right tools to boost productivity in the office, but many do not think about doing the same for employees working outside of the office or at home.
"We recognize that flexible working is here to stay. This is why our solutions have been designed with the modern office worker in mind; to empower them to work from anywhere, efficiently and productively."