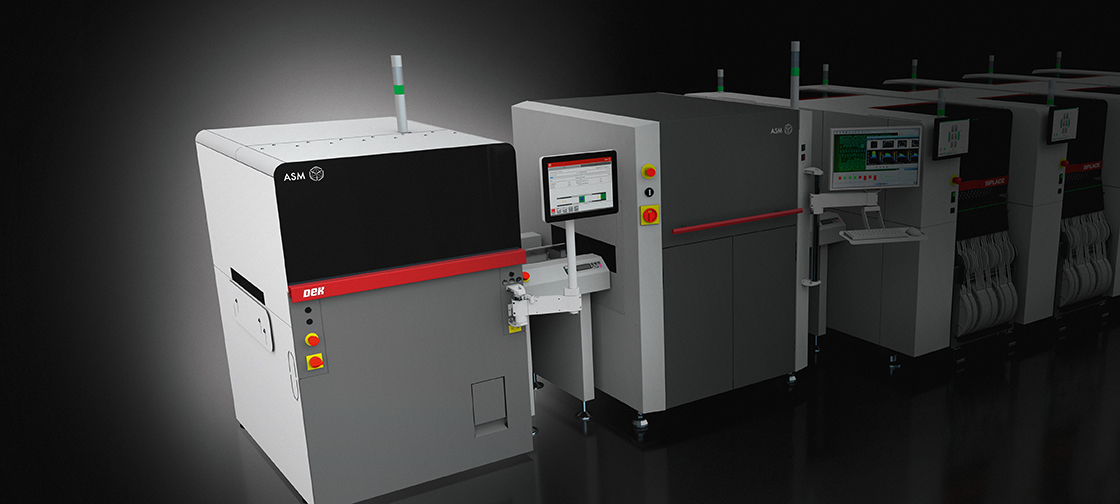 ASM has announce that it will showcase its 2020 innovations and broad portfolio of hardware and software solutions at this year's Nepcon Asia trade fair in Shenzhen, China (August 26th to August 28th).
At booth 1J80 this will include a new volume printer DEK TQ for autonomous process optimization ASM ProcessExpert as well as the modular software package ASM Works, the software infrastructure for the integrated smart SMT factory.
In live shows, ASM will showcase advanced packaging solutions as well as the advantages of automated, AIV-supported material logistics. The demonstrations on SMT lines are supplemented with modern presentation techniques such as AR.
Herbert Hofmann, Vice President and Managing Director of ASM`s Greater China SMT Solutions Segment, said: "With the global ASM Impact Release Summer 2020 we recently had a great global presentation in an internet livestream, but now we are more than glad to be able to present our innovations live on stage and meet our customers.
"At Nepcon our customers will be able to see, experience and 'feel' innovations like our new Integrated Smart Factory software suite ASM Works or our newest SIPLACE SpeedStar placement head providing a breath-taking 23% speed increase of our placement solutions SIPLACE SX, SIPLACE TX and SIPLACE TX micron. One of my personal favorites is the automated material logistics with automatic changeover tables based on AIVs.
"Direct conversations and discussions with our specialists in combination with hands-on and AR presentations will impressively demonstrate customers and prospective buyers the advantages and benefits of choosing ASM as the preferred partner when establishing the integrated smart factory and highly efficient SMT lines."
In a high-speed advanced packaging line with ultra-compact SIPLACE TX and SIPLACE TX micron high-performance modules, ASM will also present the DEK TQ high volume printer in a back-to-back configuration to support highly efficient dual lane SMT lines.
With its precise linear drives, off-belt printing, innovative clamping systems and an innovative printhead, the DEK TQ achieves an accuracy rating of ±17.5 µm at 2 Cpk while running for up to eight hours with no operator assist. With new options and software enhancements ASM further improves the operability and capabilities of DEK TQ: The High Flow Vacuum function, for example, provides an affordable and highly efficient board support for the high-volume production of small and highly complex PCBs. Furthermore, the solution 'Multiple Alignment Singulated Substrates' (MASS) for aligning and printing multiple singulated substrates in one single pass will be displayed.
The next generation 5D SPI system ASM ProcessLens offers best-in-class 3D and 2D inspection and measurement of applied solder paste. The Moirè patterns are created by a projector chip with 8 million software-controlled micro-mirrors which allows for inspection of paste heights up to 1,000µm. The X/Y camera positioning system provides an accuracy of 12.5 µm.
In combination with the expert system software ASM ProcessEngine, customers will benefit from a self-learning inline expert system for autonomous process optimization – ASM ProcessExpert. The system learns with every single print: it recognizes trends, corrects printing process parameters and changes printing parameters directly and autonomously, if requested.
With its modular ASM Works software infrastructure, ASM is providing a new solution that integrates all ASM line software components into a single software suite. The basic version ASM Works Core Package supplies the fundamental software infrastructure for smart SMT production: machines exchange data smoothly and immediately, order processing and setups can be planned throughout the entire production process.
Placement programs can also be created and status, order progress and current material consumption of the lines are displayed via monitoring functions. Additionally, various remote maintenance functions can be implemented. Eight further upgrade modules for the step-by-step integration of optimized workflows complete the ASM Works suite.
All software components are started and administered from a common launch pad. Hofmann explained: "As technology leader we consistently live our vision 'enabling the digital world'. With ASM Works we have the perfect answer to our customers' requests for a sound software basis for the smart factory.
"On factory level, since 2018, we alsoF offer the Critical Manufacturing MES solution, the only MES solution that is tailor-made for the requirements of smart factories in the electronics manufacturing industry. Thus, ASM together with Critical Manufacturing could accelerate the development of the portfolio of Industry 4.0 solutions tremendously.
"As a next step ASMPT has invested into the Chinese MES specialist SKT, which will also be presenting at our booth. This will bring us another step forward in our efforts to deliver the best solutions for the smart factory."