If you live in an area where horses still roam the streets, then check this out. Here's a device that will help protect both the riders and horses.
Tail Lights is the worlds first LED lighting safety system for horses. The system is currently used by mounted patrol units in the U.S. and Canada to make sure you're always visible while riding your horse.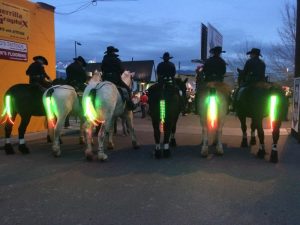 One product that Tail Lights produces is designed specifically for police officers on horseback. The Tail Lights PRO Mounted Patrol series is help bridge the ever increasing divide between law enforcement and civilians while offering a visibility advantage for mounted patrol units that are routinely forced to operate within the confines of public roads.
The LED device offers over one mile of visibility and can change patterns and colors so they can blend in with different events.
The string of LEDs attaches to your horse's tail and can stay charged for almost 24 hours. Each device is customizable, too. Pick from red, blue, green, yellow, pink-purple or white – whatever you desire. Each color comes with multiple flash patterns to choose from so you will always be visible in style!
For a better understanding of how these "Tail Lights" work, take a look at the video below.