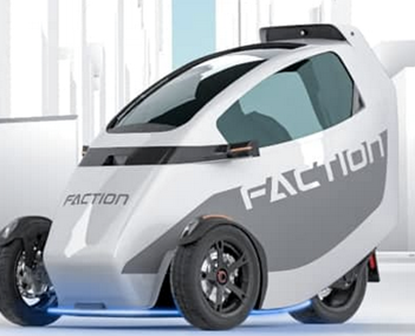 TDK Backs Faction, A Scalable Driverless Transportation Startup
TDK Corporation announced that its subsidiary TDK Ventures, Inc. invested in scalable driverless transportation startup company, Faction. Their goal is to expedite the development of a low-cost sustainable solution to urban delivery and travel-on-demand markets through Faction's three-wheel autocycle electric vehicle (EV) platform.
Current artificial intelligence software and machine learning algorithms can handle close to 90% of driving, but edge cases are still years away from completely turning over the wheel to our technology. Faction wants to fill that gap with its TeleAssist framework that adapts autonomous technology with supplemental human-in-the-loop supervision, eliminating 5 or 10 more years. The process creates a driverless vehicle that is road-ready now.
Faction leverages the synergies of autonomy to urban needs. They are right-sizing driverless transportation, making it smart for the city and an affordable solution for the planet.