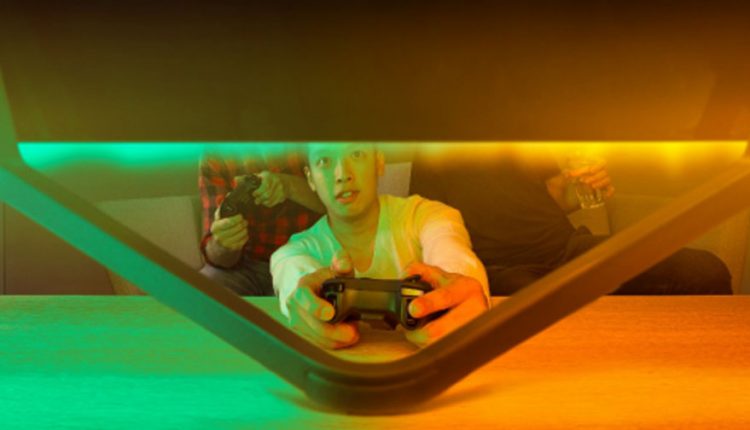 It can be hard to come by truly immersive gaming. The console gamers of today often turn to their TVs for gaming experiences, however, often they can be ill-suited to console gaming. Seldom designed for this purpose, they lack the graphical firepower, processing speed, and screen resolution that the latest games demand. Isn't there a better alternative?
Philips monitors have provided a solution. Picture quality, the lowest latency possible, immersive entertainment, and a user-friendly experience are some of the gaming improvements you can only obtain by using a dedicated monitor. These features and many more can now be found in the stunning new line of Philips Momentum monitors designed specifically for console gaming.
For the most immersive experience, look no further than the 43" Philips Momentum 436M6VBPAB, the first monitor of the Philips Momentum Line. This revolutionary monitor is designed for home entertainment with today's console gamers specifically in mind.
Featuring award-winning design and cutting-edge technology, it removes the drawbacks of the TV by delivering top-notch picture performance and the ability to match fast and changing refresh rates for effortlessly smooth game play. The result: gamers can quit worrying about technological glitches and constraints, and fully immerse themselves in the gaming experience instead. With a myriad of special features that allow users to let go and get in the moment, the Philips Momentum 436M6VBPAB offers console gamers a clear advantage over TV monitors.
Realistic graphics
High picture quality immediately sets the Philips Momentum 436M6VBPAB apart. An ultra-clear 4K UHD resolution (3840×2160 pixels) delivers nearly surgical precision on its generous 43" VA panel. Ultra Wide-Color Technology packs a visual punch with a color spectrum that ensures more natural greens, vivid reds, and deeper blues, further enhanced by Quantum Dot Technology, an innovative semiconductor technology usually reserved for a select few high-end TVs. But that's not all: the Momentum 436M6VBPAB is the world's first display to comply with the new VESA DisplayHDR 1000 standard, meaning more lifelike, vibrant visuals with superior brightness, depth, and nuance. With the latest consoles producing 4K resolution and HDR (High Dynamic Range) in selected games, the Momentum 436M6VBPAB is the ally console gamers need.
Uninterrupted action
Despite its stunning appearance, the Momentum 436M6VBPAB isn't all looks. A true console gaming monitor, it comes equipped with a wealth of features to give gamers the upper edge. Adaptive Sync, a high-performance video card synchronization technology, matches the frame rate of the rendered imagery with the display's refresh rate to eliminate the tearing and stuttering caused by mismatched frames, while low input lag reduces the device-to-display time for faster visual feedback and satisfying motion gaming. And, the Philips monitor-exclusive pixel overdrive technology SmartResponse enables ghosting-free, blur-free images in fast-paced games and movies with the lowest latency possible.
Immersive entertainment
The Momentum 436M6VBPAB is also perfect for other forms of casual entertainment such as watching movies or television, which benefit not only from the monitor's color performance and responsiveness, but also from an additional technology that makes the viewing experience immersive: Ambiglow lighting. Particularly well-suited for movies, sports, and gaming, Ambiglow emits a halo of warm light that enlarges the screen and intensifies entertainment. An internal processor analyses image content and continuously adapts the color and brightness of the light to match the image. The Momentum 436M6VBPAB also delivers exceptional audio, thanks to two built-in high-quality 7W stereo speakers with DTS Sound.
User-friendly practicality
The designers of the Momentum 436M6VBPAB took care to make it both visually sophisticated and as practical and user-friendly as possible, which is why it includes USB-C support, DisplayPort 1.2, Mini DisplayPort, and HDMI 2.0 video signal inputs for heightened connectivity, MultiView with two sources for improved multi-tasking, and a built-in USB 3.0 hub for extended versatility. The Momentum 436M6VBPAB even comes with a Philips EasyLink remote control, enabling users to control multiple connected devices with ease.
These major features mark the difference to TVs, with TVs so far from meeting the most different needs of demanding console gamers.
Crafted from premium materials and equipped with every feature necessary to make console gaming and entertainment a true pleasure for all, the Momentum 436M6VBPAB is an invitation to get in the moment.