This Guy Jumps His Car In 10 Minutes With Just 12 AA Batteries
Engineer Mehdi Sadaghdar is known for offering comic relief to fellow engineers who enjoy crazy projects on his website ElectroBOOM.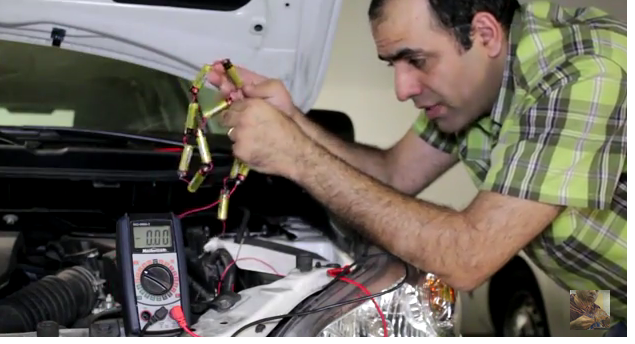 This time Sadaghdar has made us smirk by deciding to start his dead car battery with just a dozen AA batteries (the same ones you probably use in your television remote).
"AA batteries can provide a lot of energy. The issue is that they can't output that charge in a burst of high current. Every battery has some internal resistance, and that increases as the battery depletes," according to Sadaghdar.
The technical specifics of his experiment can be found on his website, but basically he needed to create a voltage higher than the car's battery in order to get it to charge.
Sadaghdar used 12 brand-new AA batteries to give him 19.4V at no load (1.62V per battery). He also incorporated a 1-ohm resistor in series to measure the current and limit the amount that flowed through the batteries.
Watch him in action in his video below.
*Spoiler Alert* He actually starts his car up like this!