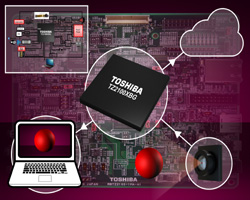 Toshiba Rolls Out TZ2100 ApP LITE Development Kits For Embedded, Handheld And Amusement Applications
Toshiba America Electronic Components, Inc. announced the RBTZ2100-1MA and RBTZ2100-2MA starter kits for development of a wide range of applications using the Toshiba TZ2100 Application Processor Lite (ApP Lite™) series . The kits include reference boards and device drivers that allow devices to be evaluated in their final application environment, making efficient use of developer resources and shortening their de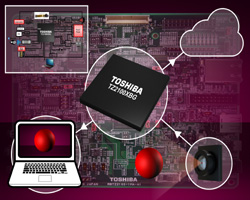 velopment schedule.
"Providing engineers with the flexibility to create development environments that best suit their application requirements is essential to helping them effectively implement our ApP Lite devices," said Saba Sharifi, vice president, business development, Logic LSI Business Unit, System LSI Group at TAEC. "Toshiba's starter kits allow customers to quickly and easily implement the TZ2100 processors for small embedded or handheld devices, industrial equipment or amusement equipment, choosing the kit whose interface and operating system best meet the application's needs."
Both kits, built to support TZ2102 single-core ARM® Cortex®-A9-based processors with up to 600MHz clock rate, provide the reference board and board support package (BSP), as well as AC adapter cable and user manual. Both support extended interfaces, including USB2.0 host, UART, I2C and PWM, as well as a range of device drivers, and both include an ARM JTAG connector.
The RBTZ2100-1MA includes a general-purpose board that supports processors with 512MB DDR3L SRAM and 16MB SPI Flash ROM, and can use either a camera or LCD panel input connector. It also has a MicroSD memory card slot, 10/100 LAN connector and BSP that supports Ubuntu® Linux®. The RBTZ2100-2MA, developed for amusement equipment, supports 256MB DDR3 SRAM processors with 256MB parallel Flash ROM, and includes a 32-bit external bus interface connector. The BSP supports the µITRON 4.0-based μC3® RTOS.
Introduced in December 2014, the TZ2100 ApP Lite processors feature a secure boot system with encryption capability to help protect against data hacking and falsification. The devices can accommodate 16-bit-wide DDR3-800/DDR3L-800 (low-power) memory modules, and their 1MByte of integrated SRAM processes operation code and data during program execution without requiring external DRAM. Other key features include power-saving technology for long-term data backup and real-time clock operation, and configurable pins that allow customization of device specifications.
Availability
The TZ2100 ApP Lite starter kits will begin shipping in March.