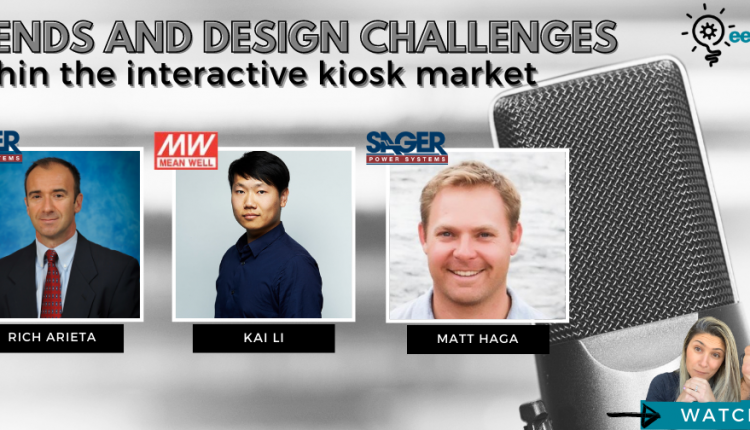 Trends and Design Challenges Within the Interactive Kiosk Market
The global interactive kiosk market was valued at $26.6B in 2020 with an expected growth rate of 6.9% from 2021-2028. Many factors contribute to this. Of course, we're experiencing COVID-19 related growth, but there's also the retail, financial and security markets that contribute, from applications like ATMs and passport checking stations at customs, to cashing out gambling winnings at a casino.
Companies have discovered that kiosks can supplement their 24-7 operations and help scale up or down much more efficiently to accommodate the ebb and flow of their business. Overall, all sectors of our economy will take part in the kiosk boom over the coming years.
The COVID-19 Factor
COVID-19 has placed emphasis on a company's ability to continue its operations with as little human contact as possible. Companies have very quickly needed to reduce human contact with kiosks to help their businesses thrive.
The initial solution to limit person-to-person contact for retail/food was kiosks. However, the user interface had to improve through software, improved buttons, and touch screens, to allow less tech savvy or elderly to successfully operate the machines without getting frustrated and leaving before finishing the transaction. Other complex problems needed to be solved, too. For example, how do you clean/disinfect a kiosk between uses so that the prior user cannot pass along germs to the current user?
One solution arose using a mounted UV-C LED capable of disinfecting human touch-points. This isn't as simple as it sounds, though. It requires the addition of LED drivers, software, and sensors to ensure the UV light disinfects while not harming users.
This trend doesn't appear to be dissipating post-COVID, either. Instead, people will be more accustomed and even more likely to use kiosks with the improvements in user interaction that was driven by the pandemic.
Flexibility is Crucial to Good Kiosk Design
Flexibility and the ability to pivot is key when designing kiosks. Whether it's a pandemic propelling new technology like UV-C or local regulations that require new technologies to be implemented in applications, engineers need to make sure that designs can quickly adapt to take advantage.
One aspect of a flexible kiosk design is the ability to scale output power to accommodate different peripherals. Kiosks will typically have a core set of devices like a computer, displays, and touch screen, but depending on the application, will need to add other equipment. Many of these will have different power requirements so your ability to increase or add different voltage and power levels with as little redesign as possible will help you get to market that much faster.
Scaling Power Without a Re-Design
There are several ways to scale power output without redesigning your power scheme.  One such way is to limit the number of AC/DC front-ends and use series DC-DC converters to add different voltages for your peripheral bus (a MW UHP-1000-48 AC-DC power supply could be used in conjunction with multiple DC-DC converters to achieve several output voltages). You could also have only a single AC-DC front-end to help limit leakage current and EMI. Sager's Value-add center can design a DC-distribution board that can be easily scalable by populating or depopulating DC-DCs. This type of architecture can benefit companies designing battery-powered kiosks as well, where typically there will be a single voltage from the battery (12V or 24V), stepped-up or down to drive peripherals.
MEAN WELL has several power supplies like the NMP modular power supply that provide similar flexibility by providing a single 650W or 1000W front-end while allowing kiosk designers add or remove DC output modules to match the power requirements of their application.
Watch the full discussion to learn more about the trends and challenges and how to solve them, as well as products that are suitable for this type of design.

                    Some Products Mentioned Include:
MEAN WELL UHP 200-2500 High Efficiency Switching Power Supply